The four "Chucky" titled films from the Child's Play franchise (movies 4-7) have been upgraded to 4k for release on Ultra HD Blu-ray from Shout! Factory. The Collector's Editions include copies of the movies on both 4k Blu-ray and HD Blu-ray.
The 4k Blu-ray/Blu-ray Collector's Editions include Bride of Chucky (1998), Seed of Chucky (2004), Curse of Chucky (2013), and Cult of Chucky (2017).
On Ultra HD Blu-ray, the Chucky movies are presented in 2160p (4k) with Dolby Vision/HDR10 specs. Audio is provided in DTS-HD Master Audio 5.1. Subtitles are provided in English SDH.
Both Theatrical and Unrated cuts of Cult of Chucky, Seed of Chucky, and Curse of Chucky are all included in the editions (Bride of Chucky does not have an unrated cut).
The 2-disc editions arrive on July 25, August 29, 2023. Bride of Chucky is priced $28.99, while the other three films are priced $27.99 on Amazon. See the links below to purchase.
The Universal films will also release in collector's sets from Shout! Factory that include posters and other movie memorabilia.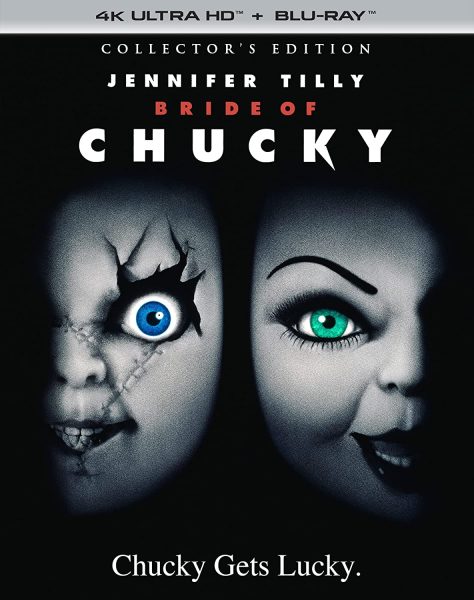 Bride of Chucky (1998)
Description: For ten years, the tortured soul of serial killer Charles Lee Ray has been imprisoned inside a child's doll. "Chucky" is reborn when his old flame, Tiffany (Jennifer Tilly), rescues his battered doll parts from a police impound. But Chucky wants his favorite playmate cut down to size, so he transforms his blushing bride into a stunning little terror. Chucky and Tiffany can't wait to start their own homicidal honeymoon. When this demonic duo hits the road and hooks up with a pair of unsuspecting newlyweds, they leave a trail of murder and mayhem behind them.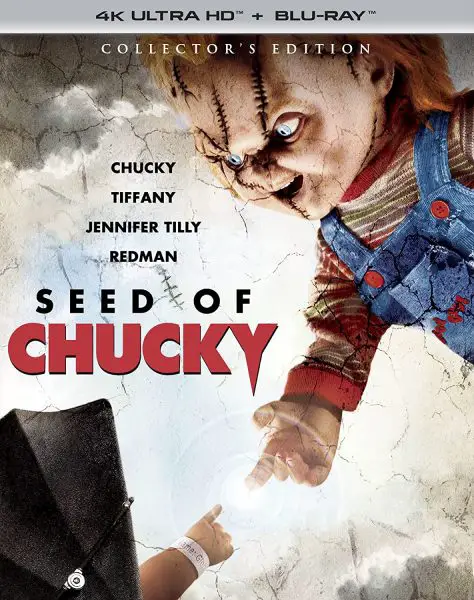 Seed of Chucky (2004)
Description: Everyone's favorite killer doll returns and the Chucky legacy continues with the introduction of a new family member! This time around, Chucky (voiced again by Brad Dourif) and his homicidal honey, Tiffany, are brought back to life by their orphan offspring, Glen. Then, the horror goes Hollywood as Chucky unleashes his own brand of murderous mayhem! Featuring Academy Award® nominee* Jennifer Tilly (as herself and the voice of Tiffany) and hip-hop star Redman, it's all about family values, Chucky-style! INCLUDES THEATRICAL & UNRATED CUTS/
Curse of Chucky (2013)
Description: He's back! From the filmmakers that brought you Chucky comes the terrifying return of the pint-sized doll possessed by the spirit of a notorious serial killer. When a mysterious package arrives at the house of Nica (Fiona Dourif, True Blood), she doesn't give it much thought. However, after her mother's mysterious death, Nica begins to suspect that the talking, red-haired doll her visiting niece has been playing with may be the key to the mounting bloodshed and chaos. The return of America's favorite toy, voiced again by Brad Dourif, is full of blood-splattered thrills and chills. INCLUDES RATED & UNRATED CUTS.
Cult of Chucky (2017)
Description: Confined to an asylum for the criminally insane for the past four years, Nica (Fiona Dourif) is wrongly convinced that she, not Chucky, murdered her entire family. But after her psychiatrist introduces a new group therapy tool – a "Good Guy" doll – a string of grisly deaths plague the asylum and Nica starts to wonder if maybe she isn't crazy after all. Andy (Alex Vincent), Chucky's now-grown-up nemesis from the original Child's Play, races to Nica's aid. But to save her he'll have to get past Tiffany (Oscar-nominee Jennifer Tilly), Chucky's long-ago bride, who will do anything, no matter how deadly or depraved, to help her beloved devil doll. INCLUDES RATED & UNRATED CUTS
Updated: Article revised with new release date and details. Original publish date: May 3, 2023.