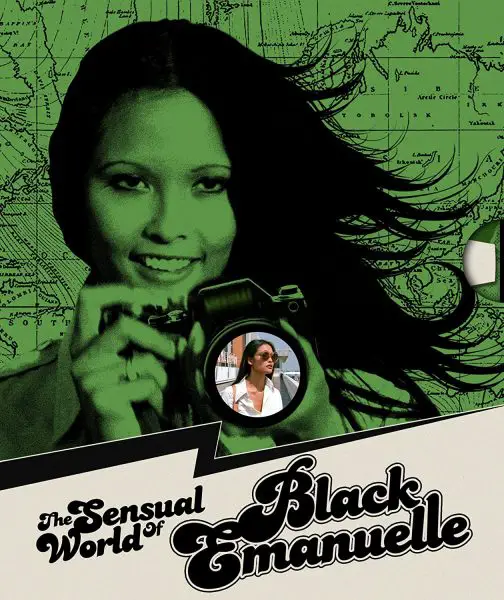 The Sensual World of Black Emanuelle Collector's Edition compiles 24 feature films in a 15-disc collection from Severin Films arriving in stores on July 25, 2023 August 29, 2023.
The landmark collection produced by award-winning writer/director Kier-La Janisse includes 21 Black Emanuelle films, 2 adjacent titles starring EuroCult heroine Ajita Wilson, and the D'Amato documentary Inferno Rosso.
Most of the films have been newly scanned, restored, and presented on Blu-ray Disc for the first time in the US.
In addition to the feature films, the collection includes 2 soundtrack CDs curated exclusively for this edition with music by Nico Fidenco. There is also an illustrated 356-page "The Black Emanuelle Bible" designed by Luke Insect and featuring new writings by noted film scholars and historians as well as Laura Gemser's in-depth 1996 Nocturno Magazine interview.
And, the collection packs over 40 hours of special features including alternate versions, audio commentaries, video essays, a documentary on Gemser's husband/co-star Gabriele Tinti, the '80s Gemser workout video "Looking Good," and more.
The Sensual World of Black Emanuelle Blu-ray/CD collection has an MSRP of 289.99. Buy on Amazon
SPECIAL FEATURES:
15 Discs
24 Feature Films
2 Soundtrack Compilation CDs
40+ Hours of Special Features
356-Page Book
DETAILS…
DISC ONE: BLACK EMANUELLE (1975) / BLACK EMANUELLE 2 (1976)
DISC TWO: EMANUELLE IN BANGKOK (1976) / EMANUELLE IN AMERICA (1976)
DISC THREE: EMANUELLE AROUND THE WORLD (1977) / EMANUELLE AND THE LAST CANNIBALS (1977)
DISC FOUR: P*RNO NIGHTS OF THE WORLD (1977) / EMANUELLE AND THE P*RNO NIGHTS OF THE WORLD (1978)
DISC FIVE: SISTER EMANUELLE (1977) / EMANUELLE AND THE WHITE SLAVE TRADE (1978)
DISC SIX: VIOLENCE IN A WOMEN'S PRISON (1982) / EMANUELLE IN PRISON (1985)
DISC SEVEN: BLACK COBRA (1976) / BLACK VELVET (1976)
DISC EIGHT: EMANUELLE'S PERVERSE OUTBURST (1983) / P*RNO ESOTIC LOVE (1980)
DISC NINE: DIVINE EMANUELLE (1981)
DISC TEN: EMANUELLE: QUEEN OF THE DESERT (1982)
DISC ELEVEN: AMORE LIBERO – FREE LOVE (1974) / EMANUELLE – A WOMAN FROM A HOT COUNTRY (1978)
DISC TWELVE: BLACK DEEP THROAT (1977) / P*RNO NIGHTS OF THE WORLD N.2 (1978)
DISC THIRTEEN: INFERNO ROSSO: JOE D'AMATO ON THE ROAD OF EXCESS (2021) / SCANDALOUS EMANUELLE (1986)
DISC FOURTEEN: NICO FIDENCO'S GROOVE CD
DISC FIFTEEN: BLACK EMANUELLE'S RARITIES AND B-SIDES CD
PLUS…
THE BLACK EMANUELLE BIBLE: Designed by Luke Insect with a cover illustration by Kim Thompson, this fully illustrated 356-page book is the most substantial collection of writing ever devoted to the series, with essays by Kevin John Bozelka, Costas Constandinides, Rachel Harrison, Alexandra Heller-Nicholas, Kier-La Janisse, Jennifer Moorman, Xavier Aldana Reyes, Jorge Rivera-Gutiérrez and Erin Wiegand; additional capsule reviews by Bryan Connolly and Craig Ledbetter; and archival interviews with actress Laura Gemser and screenwriter Maria Pia Fusco.
DESCRIPTION: She was the pleasure-seeking photojournalist – forever embodied by the exquisite Indonesian actress Laura Gemser, most frequently in collaboration with writer/director Joe D'Amato – who would uncover an increasingly lurid world of sex cults, snuff films, cannibal jungles, women's prisons, white slavers, depraved convents, and beyond to become the premier feminist icon in genre history.
Updated: Article updated with new release date.