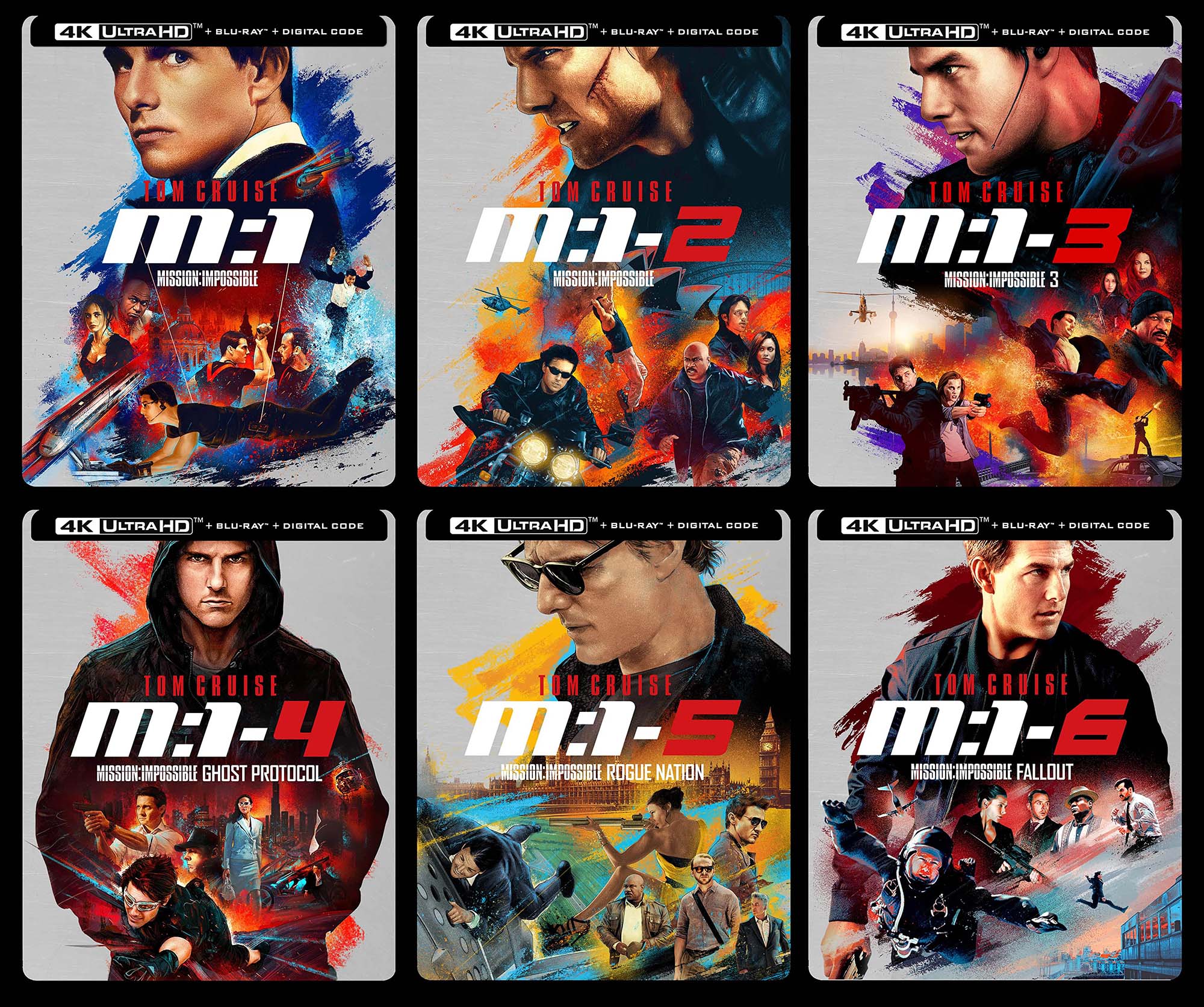 The six existing Mission: Impossible movies will get released in new 4K Blu-ray SteelBook editions in anticipation of the premiere of Mission: Impossible – Dead Reckoning Part One this summer.
The Mission: Impossible films were previously remastered in 4K and were released back in 2018 in single-movie 4k Blu-ray editions as well as a 6-Movie Collection on 4k Blu-ray. (Read a review of Mission: Impossible (1996) on Ultra HD Blu-ray.) But for physical media and SteelBook collectors alike, these new re-packaged SteelBooks are a welcome addition to any library.
Each new 4k Blu-ray edition from Paramount Home Media includes a 4K Blu-ray disc, Blu-ray, disc, and a code to redeem a digital copy, along with legacy bonus materials on the 1080p Blu-ray disc. 
On 4k Blu-ray, the films are presented in 2160p with Dolby Vision and HDR10 High Dynamic Range specs. The soundtracks are playable in Dolby TrueHD 5.1 (M:I 1-3), Dolby TrueHD 7.1 (M:I 4), and Dolby Atmos (M:I 5-6)
The new packaging of the six Mission: Impossible movies includes new custom artwork featuring Tom Cruise (Ethan Hunt) and his team members from each movie.
The 4k Blu-rays will hit stores not all at once, but in pairs, starting on June 27 with Mission: Impossible and Mission: Impossible 2. 
A week later on July 4, Mission: Impossible 3 and Mission: Impossible 4 – Ghost Protocol will hit stores. Finally, on July 11 just a few days away from the premiere of 'Dead Reckoning Part One,' Mission: Impossible 5 – Rogue Nation and Mission: Impossible 6 – Fallout will release in the 4K SteelBook editions.
Each 4K Blu-ray combo edition is priced $30.99 on Amazon. See the links below for each title to pre-order.
Mission: Impossible (1996)
Mission: Impossible 2 (2000)
Mission: Impossible 3 (2006)
Mission: Impossible 4 – Ghost Protocol (2011)
Mission: Impossible 5 – Rogue Nation (2015)
Mission: Impossible 6 – Fallout (2018)