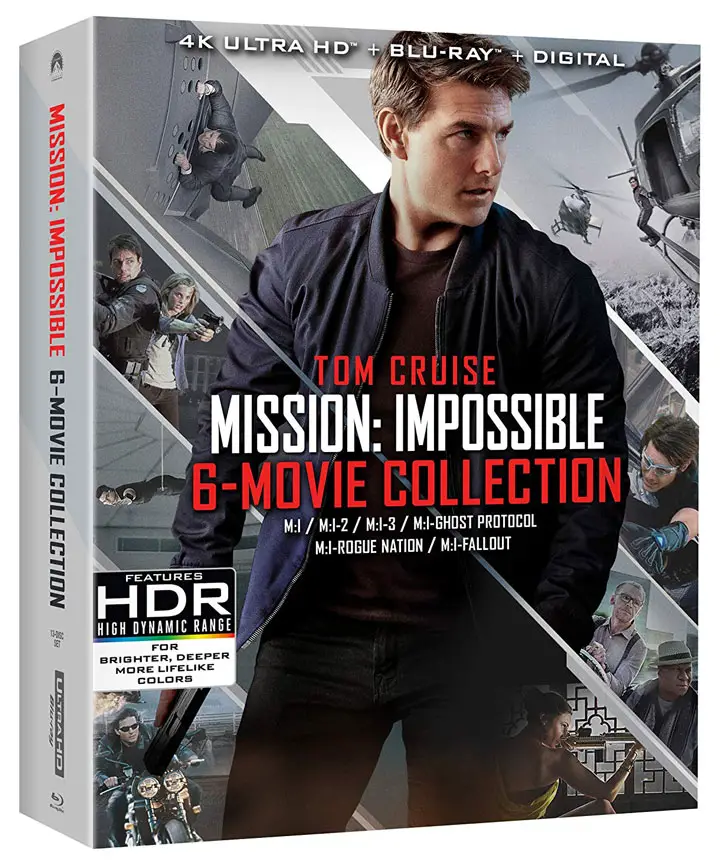 This upcoming 6-movie collection of Mission: Impossible films makes me wish I hadn't purchased the titles individually last summer when they released Ultra HD Blu-ray.
In any case, the MI franchise films are greatly enhanced by their presentations on Ultra HD Blu-ray (Read a review of Mission: Impossible in 4k) and this collection makes it even cheaper to upgrade all the past films and get the newest movie, Mission: Impossible – Fallout, all in one shot.
Right now Amazon is taking pre-orders of the Mission: Impossible 6 Movie Collection for $49.99 (Blu-ray) and $106.50 (4k Blu-ray). The Blu-ray edition is list-priced $59.99, so that's a $10 discount. The 4k Blu-ray is list-priced $125.99 which amounts to a $20 discount when you pre-order (and remember, Amazon will charge you the lowest price upon release date).
Clearly, the cheaper deal is the Blu-ray edition which is half the price of the Ultra HD collection. But that 7-disc edition only includes the Blu-ray Discs and Digital Copies (no DVDs). Mission: Impossible – 6 Movie Collection on 4k Blu-ray includes both Blu-ray, Digital Copies and Ultra HD Blu-ray editions of each film.
If you've got a 4k BD player, 4k TV, or are looking to upgrade soon, the 13-disc Ultra HD Blu-ray edition of Mission: Impossible – 6 Movie Collection is a great investment for the long term, as 4k TVs that support HDR are becoming more standard home entertainment systems.
Note: Prices above were at time of article publishing and may change at any time. Check Amazon for the latest discounts.