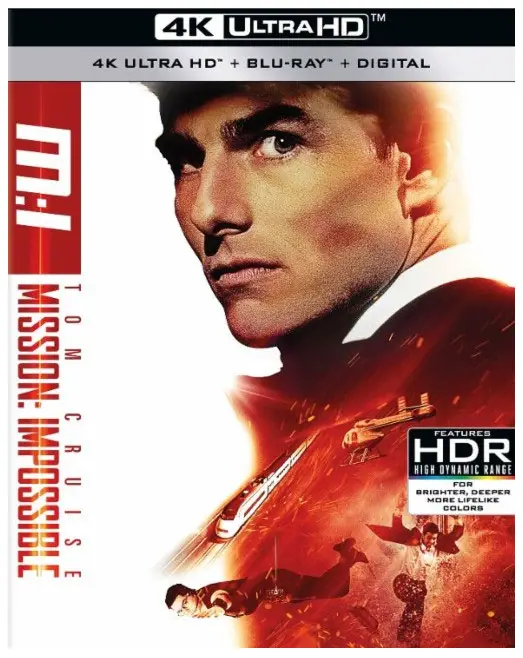 Title: Mission: Impossible (1996)
Format: 4k Ultra HD Blu-ray
Release Date: June 25, 2018
List: $25.99 | Price: $18.99 Buy on Amazon
Mission: Impossible (1996) released to 4k Ultra HD Blu-ray on June 25, 2018. The 2-disc combo edition from Paramount Home Media includes a UHD BD, BD and code to redeem a digital copy. Here's a review of the film on the highest quality disc available at this time, presented in 4k 2160p with Dolby Vision High Dynamic Range.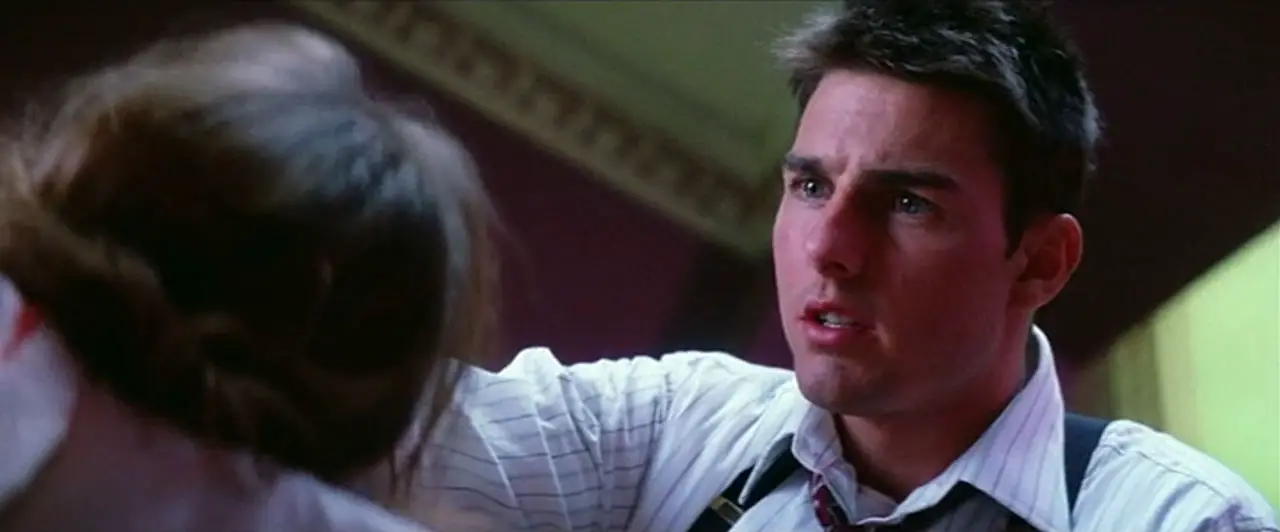 The Movie
The film that started the Mission: Impossible franchise based on the 60's television series is wonderfully fresh to watch in 4k resolution on Blu-ray.
The cast is vastly different from what we're used to seeing in the last several MI films, with Jean Reno, Emmanuelle Béart, Jon Voight, Kristin Scott Thomas and Emilio Estevez all playing IMF agents. Of course, Tom Cruise remains the centerpiece of the MI franchise as lead agent Ethan Hunt, and, Ving Rhames ends up starring in every MI film as Luther Strickell.
The break-in at the American embassy in Prague is still one of the riveting scenes in MI's film history: you don't know who to trust, who's going to die, and which characters are involved in the "ambush" of the MI mission. This opening scene is true to the action/thriller genre and doesn't rely on any expensive special effects to make it work.
The climax of the scene (looking very film noir) sets the whole premise of the film in which Ethan Hunt must disappear to avoid being condemned as a mole after his entire IMF team is assassinated.
The Equipment
Mission: Impossible on 4k Blu-ray was viewed on a 65" Samsung SUHD 4k/HDR TV sourced from a Samsung Ultra HD Blu-ray disc player. Dynamic contrast was set to medium, colors natural, and Picture Mode on "Film" as we always suggest. Audio system is a 7.1.1 channel Samsung T500 soundbar.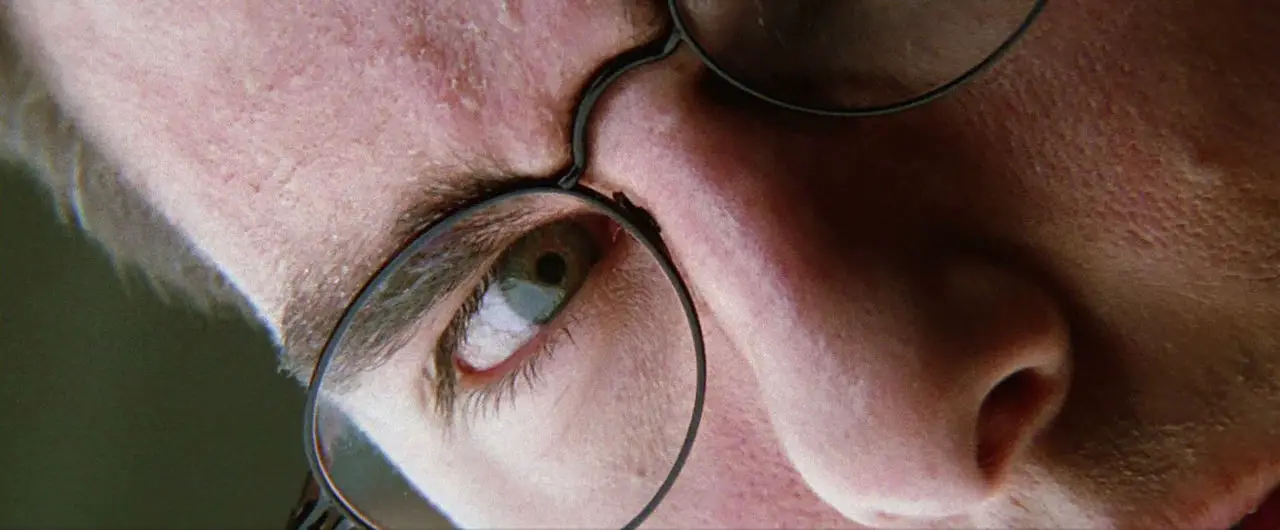 The Video
Originally shot in 35mm at 2.39:1, MI:1 is considered "real 4k" because it was mastered in 4k, even though the special effects were rendered in 2k then upscaled. The mastering of MI films varies according to title, making it a bit confusing which 4k Blu-rays are actually from 4k sources, but MI:I (1996), MI:4 (2011) and MI:6 (2018) were all mastered in 4k.
Overall, the video resolution is a huge, night-and-day improvement over the 1080p Blu-ray version which pales in comparison to this new print. There are some shots that could have been clearer, for example Jon Voight in the opening airplane scene isn't the sharpest image you'll see, but given the low lighting and mushy focus in the original film there's not much that can be done to fix certain shots.
The fact that Mission: Impossible is encoded with HDR using Dolby Vision doesn't make or break this 4k version. In fact, what you might pick up are colors that seem a bit more saturated than necessary. However, there are some scenes in which the HDR helps to add depth, adding to the realistic images in this movie that make this 4k release like watching a brand new film.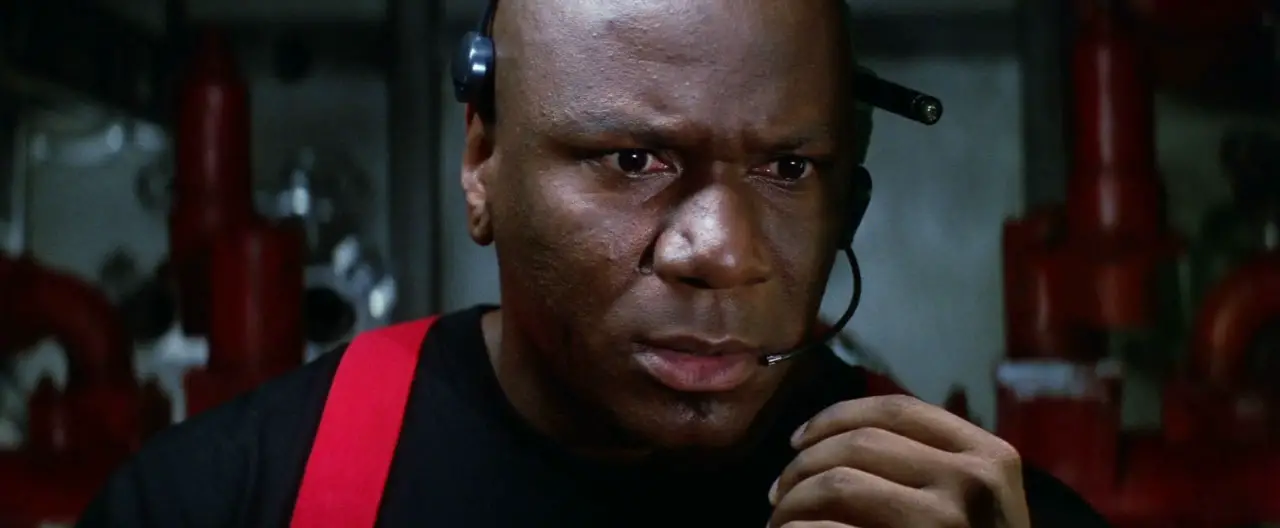 The Audio
English audio is provided in lossless Dolby TrueHD 5.1, which is an upgrade from the Blu-ray with Dolby Digital 5.1 which seems antiquated at this point. It would have been nice to listen to a more immersive Dolby Atmos soundtrack
While the audio may not be as vast an improvement from the video (although an audiophile may argue this), the dialogue is definitely more sharp and balanced nicely over background music and ambient noise. The intro and theme music, in particular, sound very crisp compared to the older Blu-ray mix.
In addition, the film is available to watch in 8 different languages (14 different language subtitles) including English, English Audio Description, German, Spanish (Spain), Spanish (Latin American), French, Italian, Japanese and Portuguese (Brazilian).
If you're a native English speaker or multi-lingual, watch about ten minutes of Mission Impossible in Italian or Japanese for some pretty good overdubs.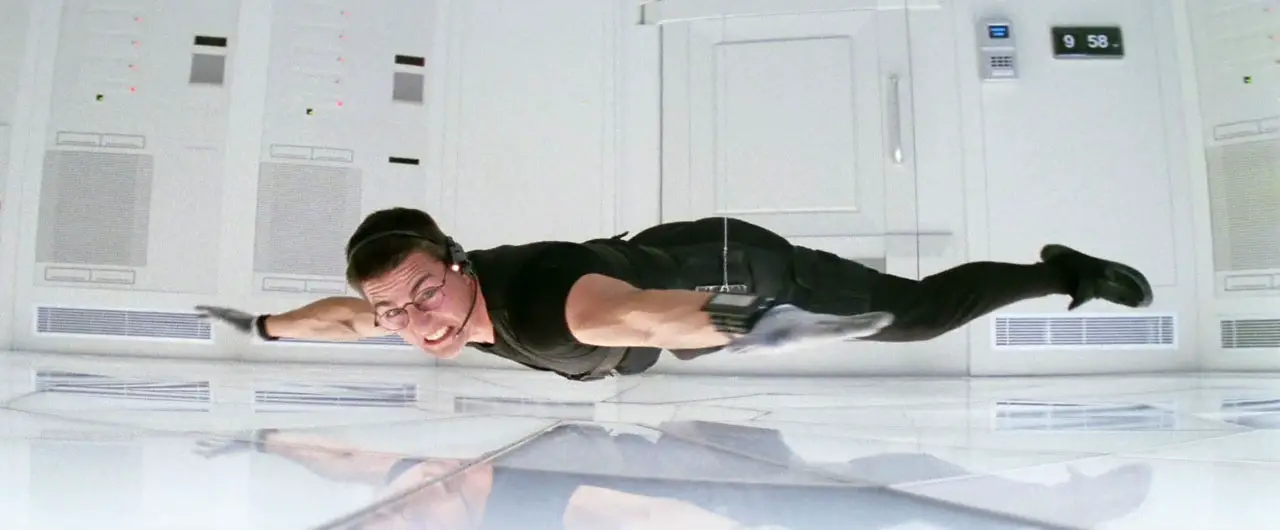 The Extras
Since the 4k Blu-ray only includes the movie itself (the main interface on the home screen is minimal in that it only includes Play, Setting and Chapters buttons), the extras need to be watched on the older Blu-ray Disc. There are several featurettes and photo gallery but man, hard to watch that video quality after seeing the feature film in Ultra HD.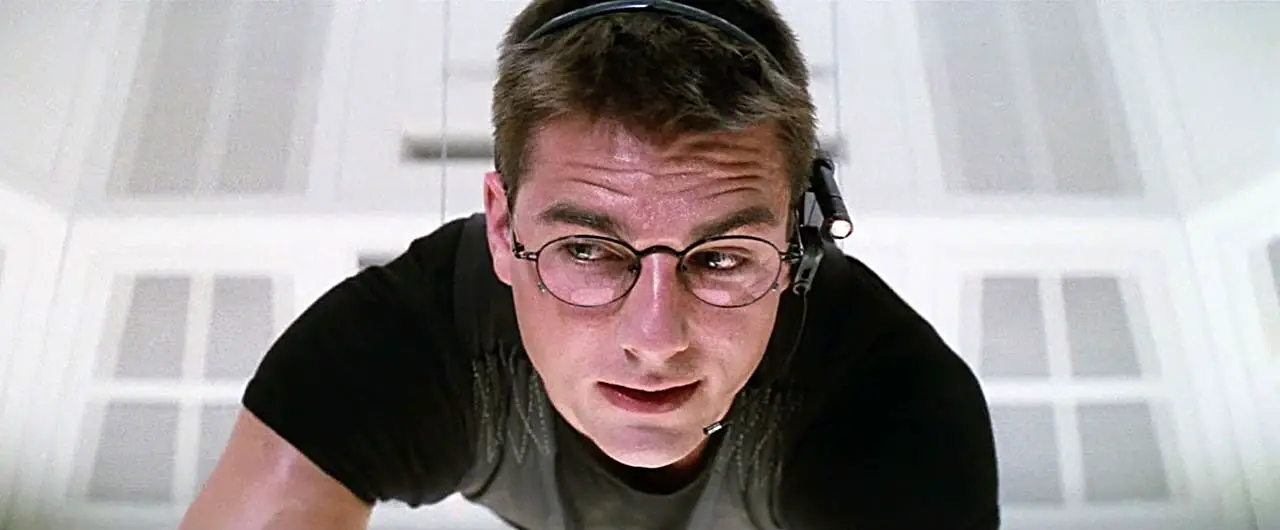 Digital Copy
I already owned Mission: Impossible in HDX (1080p) on Vudu but I figured I would try to upgrade MI:1 to Digital 4K (UHD) on iTunes. Unfortunately, the iTunes code does not provide a Digital 4k version, even though Apple supports 4k HDR with Dolby Vision as provided on the disc. [Update: Upon release date of the 4k Blu-ray the digital code now redeems to Digital 4k with Dolby Vision. Woohoo!]
The digital redemption code for Mission: Impossible can be dual-redeemed (even though the disc insert says "Code is valid for your choice of either one UltraViolet or one digital copy redemption only"), so after redeeming with iTunes head over to ParamountMovies.com to get it on the UltraViolet platform. But again, the digital copy is only 1080p (HD) not 2160p (UHD). [See update above.]
Summary
If you haven't watched Mission: Impossible in a while it's a great time to get refreshed before the premiere of MI:6 'Fallout' hitting theaters on June 27th. And, why not watch it in spectacular 4k?
This new print of MI:1 has sharpness, color depth, contrast, and audio intricacies that were weren't available on previous disc editions. There are details in almost every scene that make watching the film a brand new experience.
The Ultra HD Blu-ray edition of the film is a must-have for Mission: Impossible fans, 4k HDR TV owners, and anyone who likes this genre of films.


Scores
Movie
5/5
Video
4/5
Audio
4/5
Extras
3/5
Purchase
The Mission: Imposssible 4k Blu-ray combo edition with Blu-ray and Digital Copy has a list price of $25.99. Sale: $17.99 Order on Amazon
Along with MI:1, the entire Mission: Impossible series is releasing to 4k Blu-ray on June 27th. List Price: $125.99 Sale: $69.21 Order on Amazon