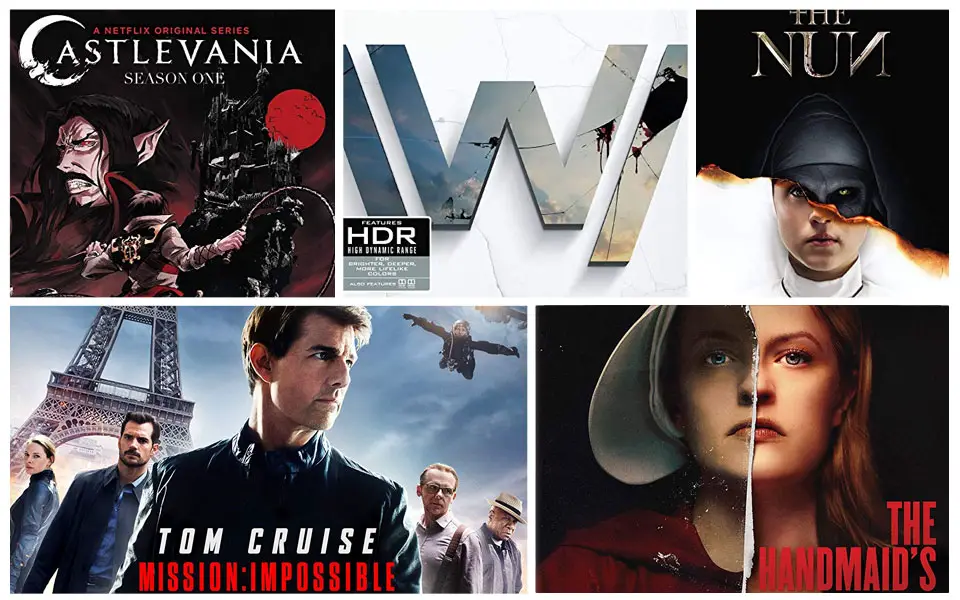 This week there are plenty of new Blu-ray and Ultra HD Blu-ray releases to check out. Leading the new movies in terms of popularity is Tom Cruises' Mission: Impossible – Fallout on both formats. And, for those of you looking for the complete MI collection on BD or to upgrade all previous MI films to 4k BD there's a Mission: Impossible 6-Movie edition that includes all films plus the newest installment 'Fallout' in Ultra HD Blu-ray.
Also on Blu-ray and 4k Blu-ray is the second season of HBO's Westworld with all ten episodes and bonus materials with ten production featurettes other extras. The 4k BD features 2160p resolution with Dolby Vision (HDR) and a Dolby Atmos soundtrack.
And, other TV series releasing to Blu-ray include the first season of Yellowstone starring Kevin Costner (on Blu-ray and DVD) and the second season of The Handmaid's Tale (on Blu-ray and DVD).
See the list below for more Blu-ray releases this week.
New on Blu-ray, Tuesday, Dec. 4, 2018
Ultra HD Blu-ray
Mission: Impossible – Fallout
Mission: Impossible – 6 Movie Collection
Westworld Season 2
Journey to the South Pacific
Blu-ray
TV
Westworld Season 2
The Handmaid's Tale Season Two
Doctor Who: Peter Davison Complete Season One
Yellowstone: Season One
Castlevania: Season 1
Movies
Mission: Impossible – Fallout
Mission: Impossible – 6 Movie Collection
The Nun
Operation Finale
The Happytime Murders
Elizabeth Harvest
Tinker'
Support The Girls
Journey to the South Pacific
God Bless The Broken Road
A Moment in the Reeds
In Harm's Way
Death Kiss
Ride
Mcqueen
Howard Lovecraft And The Kingdom Of Madness
What Keeps You Alive
Viking Destiny
Attraction
Eating You Alive
A Frozen Christmas 3
Til Death Do Us Part
California No
Fat Head Kids
Corpse Prison Part 2 (2017)
The Puppet Masters (1994)
National Lampoon's Class Reunion (1982)
Atomic Cafe (1982)
Race for the Yankee Zephyr aka Treasure of the Yankee Zephyr (1981
The Serpent's Egg (1977)
The Black Windmill (1974)
The Revolt of the Slaves aka La rivolta degli schiavi (1961)
Documentaries
Pope Francis – A Man of His Word
2018 World Series Champions: Boston Red Sox Collector's Edition
Major League Baseball: 2018 World Series Boston Red Sox Vs Los Angeles Dodgers
Letter from Masanjia
Anime
Digimon Adventure tri.: Future
Mobile Fighter G-Gundam Part One
Love Chunibyo & Other Delutions: Take On Me
Akame Ga Kill: Complete Collection
Den-noh Coil: Complete Collection
The Silver Guardian: The Complete Series
Kuma Miko: The Complete Series
Rainbow Days: The Complete Series
Cheer Boys!!: The Complete Series
In case you missed it here are last week's new Blu-ray releases.