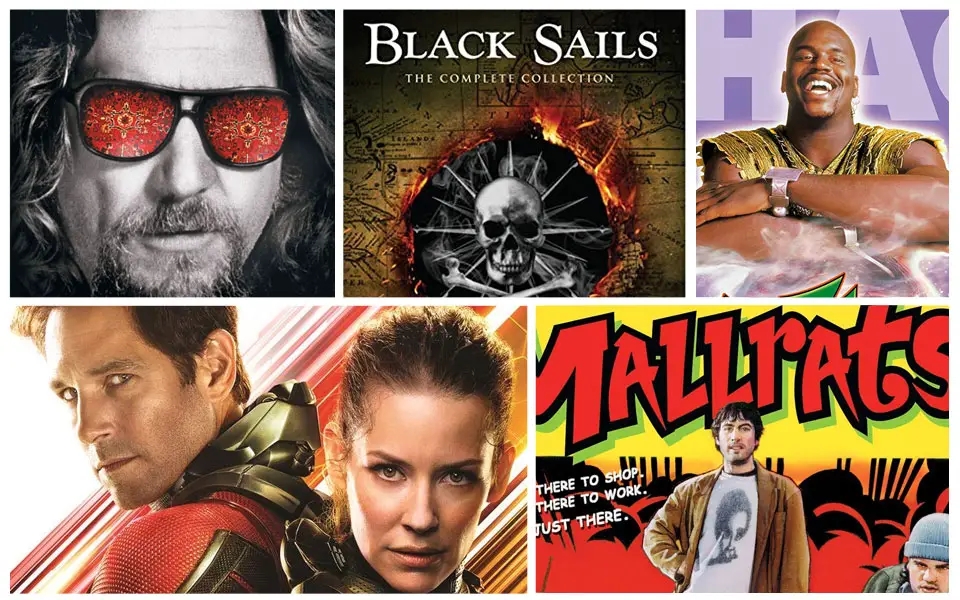 Disney's Ant-Man and the Wasp is now available on disc in various formats including Blu-ray, 4k Blu-ray, and DVD, as well as several retailer exclusive editions. (A 3D Blu-ray Region B/2 edition is out there but difficult to find.) Previously released to digital but not widely in 4k, this is your chance to get the movie on Ultra HD Blu-ray with HDR and immersive Dolby Atmos soundtrack for a great home viewing experience.
Also on Ultra HD Blu-ray this week you can pick up The Big Lebowski remastered for 4k to celebrate the 20th Anniversary of the film —  available in both a 2-disc and Collector's Edition with bag, ball pencil holder and sweater packaging.
From TV, NBC's comedy Community is now available in a complete 12-disc set on Blu-ray from Mill Creek Entertainment that includes the Yahoo! Screen 13-episode final season. Black Sails Seasons 1 – 4 can be purchased in a Complete Collection from Collection And, the Starz! series Ash Vs. Evil Dead is available in 3-season Complete Collection.
80's and 90's films are abundant this week! Previously released to an All Region edition, Mallrats (1995) from writer/director Kevin Smith is now available on Region A/1 Blu-ray with plenty of extras including deleted scenes, outtakes and cast interviews.
The Oscar-nominated bio drama Coal Miner's Daughter (1980) starring Sissy Spacek and Tommy Lee Jones is now available in a Region A/1 edition and includes previously released bonus material such as feature commentary, interviews and salute from President George H. W. Bush.
And, it seems like we've been waiting our whole lives for this but Kazaam (1996) starring Shaquille O'Neal is finally available on Blu-ray Disc from KL Studio Classics. Could this be Director Paul Michael Glaser best work?
New on Blu-ray, Oct. 16, 2018
TV Shows
Community The Complete Series
Black Sails Seasons The Complete Series
Ash Vs. Evil Dead The Complete Collection
Movies
Ant-Man and the Wasp (Blu-ray & 4k Blu-ray)
Arizona (2018)
Unfriended: Dark Web (2018)
Whitney (2018)
Reprisal (2018)
Down A Dark Hall (2018)
BuyBust (2018)
Cold Skin (2017)
Dust 2 Glory (2017)
The Big Lebowski (1998)
The Prince of Egypt (1998)
Antz (1998)
Kazaam (1996)
Mallrats (1995)
It's Pat: The Movie (1994)
Fried Green Tomatoes (1991)
City Slickers (1991) – Collector's Edition
Parenthood (1989)
Die Hard (1988) – 30th Anniversary Edition
Monty Python's The Meaning of Life – 30th Anniversary Edition
The House on Sorority Row (1983)
Halloween III: Season of the Witch (1982) – SteelBook
Halloween II (1981) – SteelBook
Invasion of the Body Snatchers (1978) – Olive Signature
Shampoo (1975) – Criterion Collection
Rooster Cogburn (1975)
Trilogy of Terror (1975)
Schlock (1973)
Joe Kidd (1972)
Dracula A.D. 1972 (1972)
Two Mules for Sister Sara (1970)
Charade (1963)
Touch of Evil (1958)
Double Indemnity (1944) – 70th Anniversary Edition
Re-Releases (previously available in Region A/1)
The Last House on the Left (2009)
Far and Away (1992)
Weird Science (1985)
Cut and Run (1985)
High Plains Drifter (1973)
Anime
Juni Taisen: Zodiac War – Season One
Snow White with the Red Hair: The Complete Series
Orange: The Complete Series
Dance with Devils: The Complete Series
Heavy Object: Season One
Terraformars: Revenge
Seven Heavenly Virtues
Collections
The Original Christmas Specials Collection
Mamoru Hosoda Movie Collection
Nightwing, Shadow of the Hawk – Double Feature
In case you missed it, here are last week's new Blu-ray releases.