Ready to start watching Ultra HD on your new 4k TV? Netflix has a bunch of original shows in 4k (2160p) resolution, and many titles feature High Dynamic Range (HDR) such as Stranger Things, House of Cards, and Black Mirror. They've also got several Marvel series in Ultra HD including Daredevil, Jessica Jones, Luke Cage and Iron Fist, all of whom meet to fight crime in New York City as The Defenders.
Netflix also has a large library of Original Films in Ultra HD such as The Guernsey, Extinction, Crouching Tiger, Hidden Dragon: Sword of Destiny, Bright, and the just-released sci-fi original How it Ends, starring Forest Whitaker and Theo James. Comedy specials that stream in 4k include Sarah Silverman A Speck of Dust, Amy Schumer: The Leather Special, and Tracy Morgan: Staying Alive, to name a few.
But watching Ultra HD isn't as easy as turning on your new TV and connecting to Netflix. There are some settings that need to be set up before you start seeing the "Ultra HD" label showing up while browsing Netflix titles on your TV. Here's what you need to know to start watching Ultra HD content on Netflix.
Subscribe to 4k Netflix Service
Once you've purchased a 4k TV you need to upgrade your Netflix account to the $13.99 per month plan. This enables four screens (separate viewers) to be watching at the same time and streaming in Ultra HD to a 3840 × 2160 resolution 4k TV. You can also download videos to up to 4 phones or tablets. (See screenshot below.)
Sufficient Broadband Internet
Netflix suggests a minimum of 25 megabits-per-second to stream in Ultra HD quality, but even 15Mbps can be fast enough. If you're not sure how fast your internet is use Netflix's internet speed test website Fast.com, Comcast's Xfinity Speed Test, or AT&T's Internet Speed Test to be sure you're getting enough download speed. If your internet is too slow, try restarting the modem to see if it helps. If you still don't get enough speed you might have to call your ISP for an upgrade.
Adjust 4k TV Settings
When you get your 4k TV home for the first time you may need to set the resolution to Ultra HD. By default it should be, but make sure the display resolution says 3840 × 2160. You can also set the picture format to 16.9 for cinematic formats (or set it to dynamic if the settings allow). Also, for those purchasing new TVs, most use Bluetooth-enabled remote controls. If you can't get your remote to work at first, be sure it is paired with the TV.
Adjust 4k Set-top Box
If you're not using the Netflix app for Smart TVs, Ultra HD content may need to travel through either a set-top box or gaming console to display on the TV. Streaming media players that support 4k include Nvidia Shield, Roku 4, Roku Premiere, Roku Premiere+, Roku Ultra, Chromecast Ultra, TiVo Bolt, and Amazon's newest Fire TV model. The Xbox One S also supports 4k. Be sure to have the latest firmware upgrades to any 4k-supporting devices.
HDMI 2.0 Cable
The bandwidth demand for 4k is much higher than 720p or 1080p so you'll need an HDMI 2.0 cable that is made for 4k content. The older HDMI 1.4 standard only supports 30fps, whereas HDMI 2.0 supports 60fps. Best Buy has got high-quality Audioquest cables starting at $29.99 for the Pearl-level 4-foot 4k HDMI cable.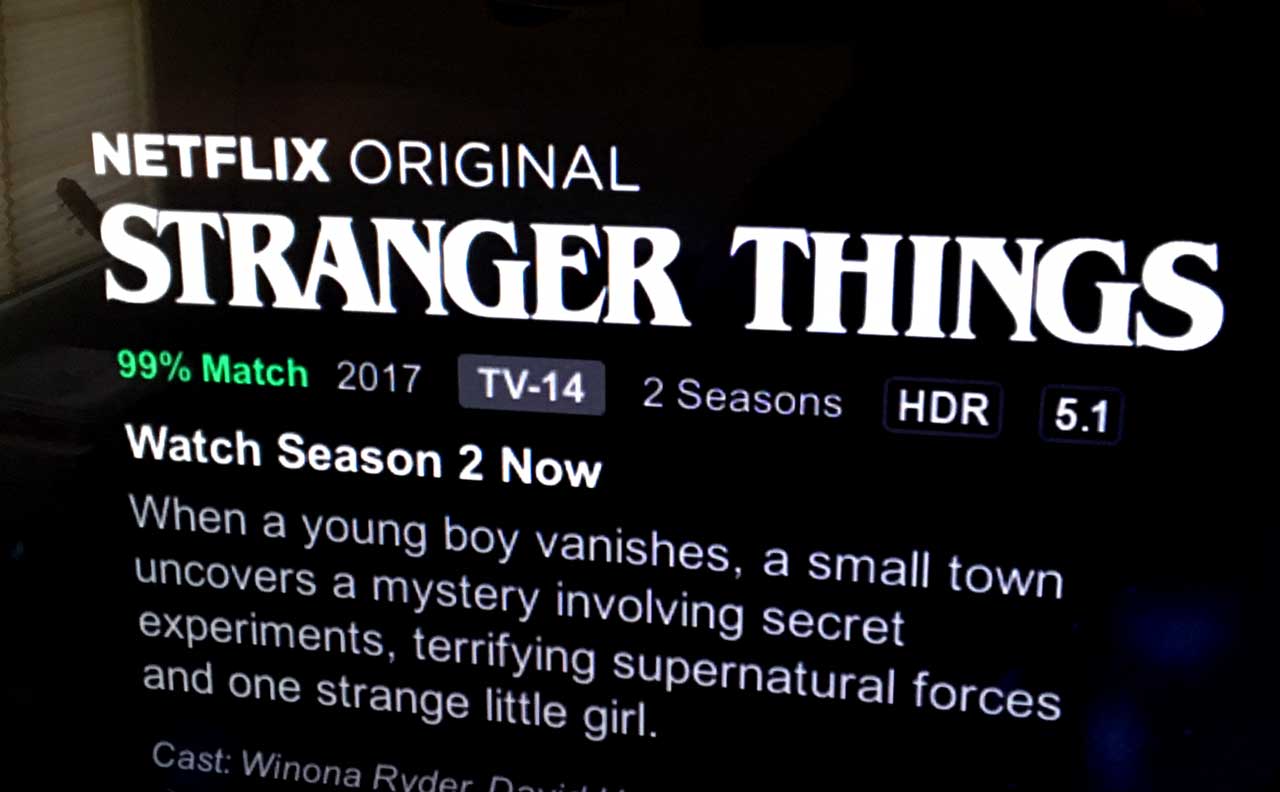 Find Titles In Ultra HD
If everything is set up correctly your Netflix account should indicate Ultra HD resolutioj with a label like in the screenshot above. You should also be able to slide through a list of titles in Ultra HD as you would New Arrivals, Trending Now, and Recently Watched. Keep paging down through those categories if you don't see Ultra HD right away. You can search for titles using our list of all Netflix Ultra HD titles.
What about HDR?
HDR stands for High Dynamic Range and is available with a growing number of digital titles, but is now almost a standard on Ultra HD Blu-ray Discs. The new color standard (defined by either HDR10 or Dolby Vision specifications), adds more color depth, contrast, and detail in dark and light areas by increasing bit depth. But not many 4k TVs are equipped to display HDR, and neither are all streaming media players. The color spec requires HDMI 2.0a (a firmware upgrade to HDMI 2.0). Netflix, Amazon and Vudu apps will play 4k HDR titles if the TV supports it (Vudu HDR titles are Dolby Vision and not compatible with many TVs). Media players that support HDR include Amazon Fire TV, Apple TV 4k, Chromecast, several Roku players and Streaming Stick, and Shield TV.
For further information on streaming Netflix in HDR read How to Stream 4k Ultra HD with High Dynamic Range, or, view a list of titles available in 4k/HDR below.
[Note: This article was updated Aug. 25, 2018.]