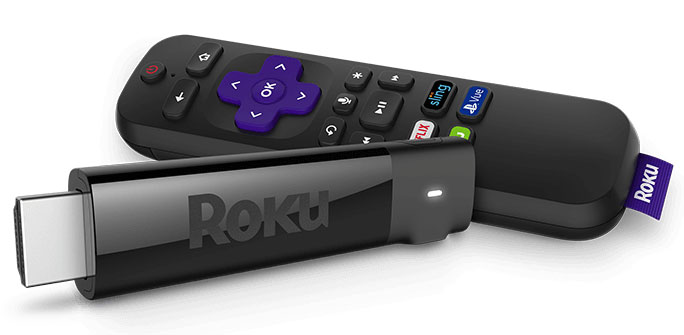 Roku introduced five new streaming media players today including two Express models (geared towards streaming beginners and those with older TVs), two streaming sticks (for those who want low profile devices), and a new update to the traditional media player-sized Roku Ultra.
The new Express (Model 3900) is 5-times more powerful than its predecessor and comes with a simple remote for $29.99, while the new Express+ (Model 3910) includes both HDMI and A/V (red/yellow/white) ports for connecting to older TVs and simple remote. The latter model is sold exclusively at Walmart for $39.99.
The Streaming Stick (Model 3800) features a quad-core processor and 802.11 AC dual-band MIMO wireless, with a new voice remote that includes buttons for TV power and volume to control compatible TVs. That model lists for $49.99.
What one might call an Apple TV 4k killer, the Roku Streaming Stick+ (Model 3810), features support for 4k HDR content at 60 frames per second (fps) for $69.99. Compare that to the price of the new Apple TV 4k that costs $110 more for the 32GB model, $130 more for their 64GB model. The Streaming Stick+ also plays DTS Digital Surround pass through over HDMI, features excellent wireless performance with a receiver built-in to the power cord, and comes with a voice remote.
Finally, the new Roku Ultra (Model 4660) is the traditional media player with support of 4K and 4K HDR content at up to 60 fps. The player includes an ethernet for more reliable internet connection, microSD slot to help speed up channel loads, and voice remote with headphone jack. Like the Streaming Stick+ the new Roku Ultra supports only HDR10, which, coincidentally is the HDR spec the new Amazon Fire TV supports.