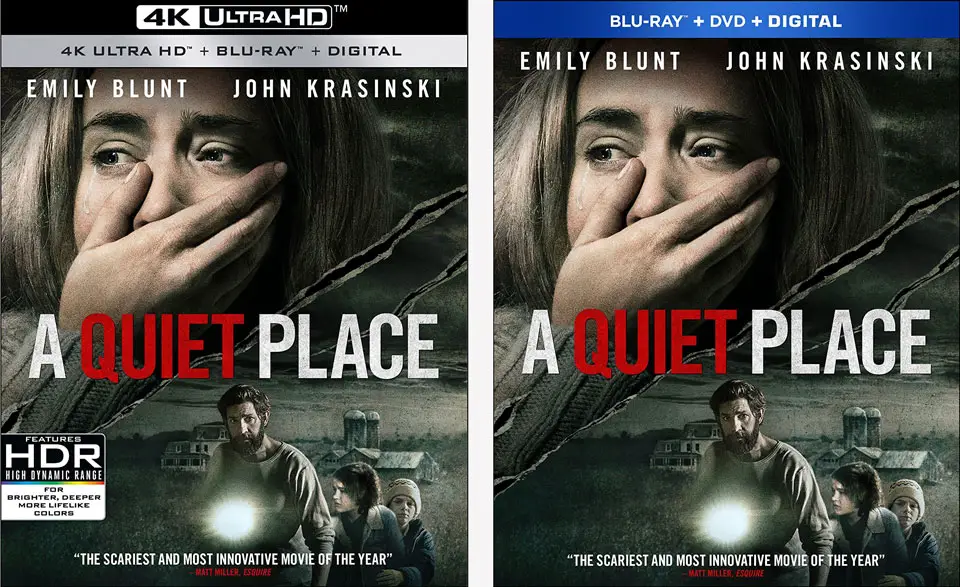 Paramount Picture's thriller of the year A Quiet Place is coming to Digital, Blu-ray, Ultra HD Blu-ray and DVD. The film will be available in 2-disc combo editions on Blu-ray and 4k Blu-ray with an extra disc (either DVD or Blu-ray) and a Digital Copy (HD or 4k/UHD).
The Blu-ray disc is formatted in 1080p while the 4k Blu-ray presents the film in 2160p with HDR via the Dolby Vision specification. The Blu-ray editions of A Quiet Place both provide the soundtrack in Dolby Atmos (compatible with multichannel Dolby TrueHD). And, audio is also provided in French 5.1 Dolby Audio, Spanish 5.1 Dolby Audio, and Portuguese 5.1 Dolby Audio.
Extras (available on the Blu-ray editions as well as from select digital retailers) include three featurettes "Creating the Quiet," "The Sound of Darkness" and "A Reason for Silence" that explore the behind the scenes making of the film, sound editing, and visual effects.
A Quiet Place, starring Emily Blunt and John Krasinski, gets a 95% rating on Rotten Tomatoes' Tomatometer, and a 7.9/10 on IMDB. The film is scheduled to be released early to digital on June 26, followed by disc formats on July 10, 2018.
Bonus Features
Creating the Quiet – Behind the Scenes of A QUIET PLACE
The Sound of Darkness – Editing Sound for A QUIET PLACE
A Reason for Silence – The Visual Effects of A QUIET PLACE