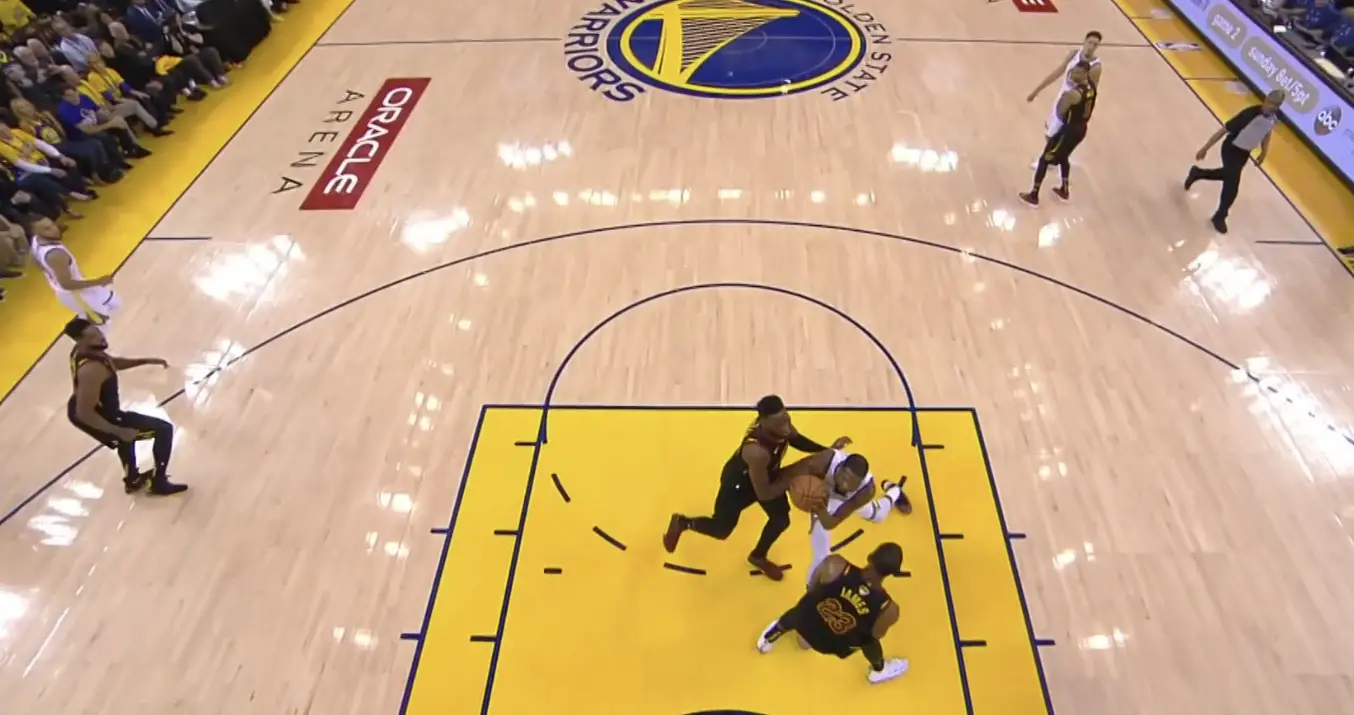 How can one referee's call change the course of a 7-game series and cost a network millions of viewers and potential ad revenue? It happens like this.
In Game 1 the referees overturned a charge call on Kevin Durant and switched it to a blocking foul on Lebron James. Cleveland was ahead by 2 points with just 40 seconds left, but instead Durant was given the freethrows and tied up the game.
Of course, the goof up by both Coach Tyronn Lue and JR Smith not to call a timeout with seconds on the clock being down one point was the straw that broke the camel's back. The Cavs lost in overtime 114 to 124.
James, who played the best night of his playoff career with 51 points, 8 rebounds and 8 assists, was so frustrated with the reversed call and outcome of the game that he punched a whiteboard breaking his hand (we found out upon the conclussion of the series).
After Game 1 most of us knew the series would be over quick, with Cleveland maybe taking one game at home. But ABC can't be too happy about a sweep in the NBA Finals, and neither can NBA commissioner Adam Silver.
Game 4 received the lowest ratings of the series falling 12% from Game 3 with a 11.2 overnight rating. The series was averaging just under 18 million viewers since Game1 on May 31 but that number will likely be reduced when final viewer numbers are calculated for Game 4.
But what if the charge call against Durant stuck and the Cavs won Game 1? Cleveland would have split the first two games and may have won another at home on sheer spirit alone. They were obviously outgunned and lacked 2-3 all-stars to match Golden State's firepower. However, the series could have been 2-2 going back to Oracle Arena for Game 5, and a 6-series Finals would have been much better for ABC, the NBA, and the fans (yeah, even Golden State fans must like competition).
Many would argue the officiating this year has been inconsistent — heck, James Harden can draw a foul if an opposing player even breathes on him. But in the finals? Well that's a different situation. Players are given more room to play aggressively (although one would argue about the consistency of this) and what's a foul in a regular season game may not be a foul in the playoffs.
The main problem is when referees affect the outcome of the game. And, in the specific call in Game 1 the refs even changed the reason for the call. Lebron thought they were reviewing whether or not he was in the restricted zone, which he wasn't. But when they returned to play the call was completely changed to a blocking foul. This shouldn't happen. It's bad for the players, bad for the NBA, and bad for ratings.
Contributing Author: Josh Henderson