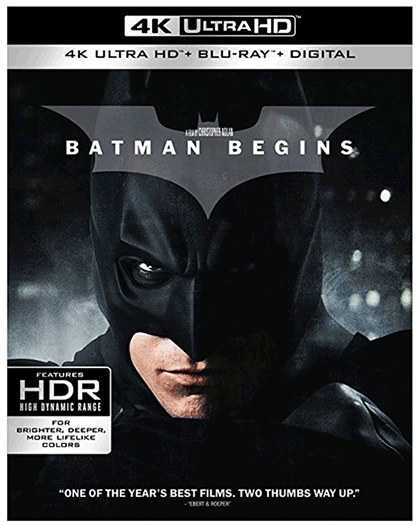 One thing about Christopher Nolan's Batman films is that they have always been among the best looking and sounding Blu-ray Discs for home theater systems. The first film in the trilogy, Batman Begins, was often used as showcase media at electronics conventions displaying detailed 1080p video and 16-bit audio in Dolby TrueHD 5.1 surround sound.
Ten years ago, that was about as good as it got for home media. The video and 16-bit audio specs continued through The Dark Knight (2008), but the follow up film The Dark Knight Rises (2012) added deeper audio depth with 24-bit DTS-HD Master Audio 5.1.
Now, Warner Bros. is releasing the three Nolan-directed Batman films in 4k Ultra HD Blu-ray, along with The Dark Knight Trilogy and several other Christopher Nolan including Inception, Interstellar, and Dunkirk. All of those films, including the Christopher Nolan 4k Collection with seven films from the acclaimed director.
As well as upgraded video resolution to 4k (2160p) from HD (1080p), all three Batman films on Ultra HD Blu-ray have also been enhanced with HDR for increased color saturation, depth and contrast. The films are presented in 16×9 (2.40:1) widescreen aspect ratio with a soundtrack in DTS-HD Master Audio.
The 4k Blu-ray combos editions come with an extra Blu-ray Disc and digital copies. All three of the films on 4k Blu-ray are list-priced at $41.99, although pre-orders are available for $24.99 each (see Amazon pricing below).