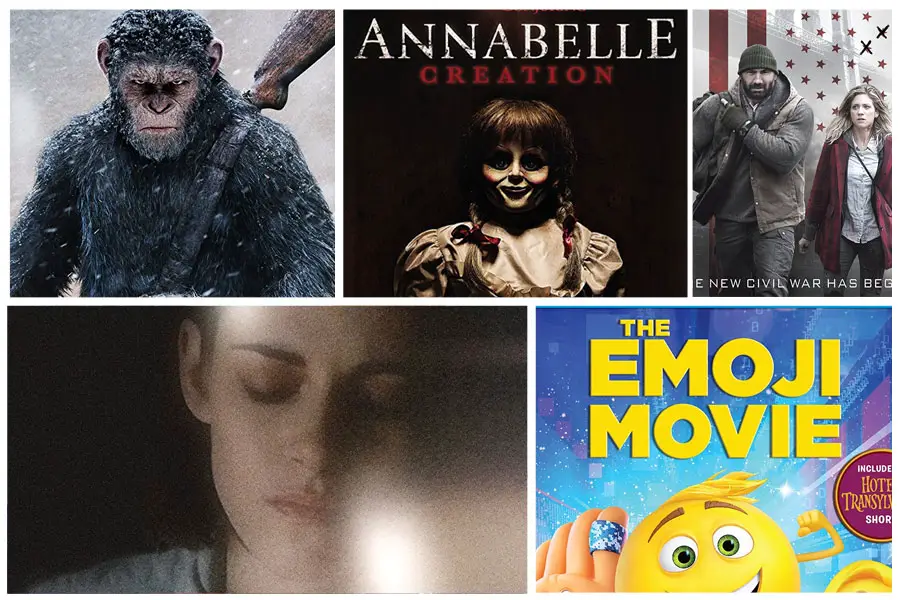 This week 20th Century Fox's summer blockbuster War For The Planet Of The Apes has been released to Blu-ray, 3D Blu-ray, and Ultra HD Blu-ray Disc. Following an early Digital Release of the film, the Blu-ray combos include bonus materials such as deleted scenes with optional audio commentary, several featurettes, a concept art gallery, and film commentary with director Matt Reeves. Each Blu-ray combo edition also comes with a second disc and a digital copy.
Other mentionable Blu-ray releases this week include the horror film Annabelle: Creation, Columbia Pictures' animated feature The Emoji Movie, The Walking Dead Season 7 Limited Edition with Spike Walker Statue, mystery/drama Personal Shopper starring Kristen Stewart, and the documentary An Inconvenient Sequel: Truth to Power.
On Ultra HD Blu-ray Disc this week we have War for the Planet of the Apes, Planet of the Apes Trilogy, A Charlie Brown Christmas, A Charlie Brown Thanksgiving, The Emoji Movie, and Warrior.
New on Blu-ray Disc, Oct. 24, 2017
Ultra HD Blu-ray
War for the Planet of the Apes
Planet of the Apes Trilogy
A Charlie Brown Christmas
A Charlie Brown Thanksgiving
The Emoji Movie
Warrior
TV Series
Midsomer Murders: Series 19, Part 2
Masterpiece: The Durrells in Corfu Season 2 (UK Edition)
Movies
War For The Planet Of The Apes
Annabelle: Creation
The Emoji Movie
The Walking Dead Season 7 Limited Edition Spike Walker Statue
Personal Shopper
An Inconvenient Sequel: Truth to Power
Maudie
The Good Catholic
Blood Feast
Afterimage
Young Adult (2011)
Morning Glory (2010)
The Uninvited (2009)
Middle Men (2009)
The Soloist (2009)
Shine a Light (2008)
The Love Guru (2008)
Strange Wilderness (2008)
World Trade Center (2006)
Without a Paddle (2004)
The Manchurian Candidate (2004)
Paycheck (2003)
Virtuosity (1995)
Sliver (1993)
The Indian Runner (1991)
Night Angel – Special Edition (1990)
The Presidio (1988)
They Call Me Bruce? (1982)
Night School (1981)
Marathon Man (1976)
The Corpse Grinders (1971)
Hell on Frisco Bay (1955)
Portrait of Jennie (1948)
Holiday Inn (1942)
The Old Dark House (1932)
Wings (1927)
The Barn – Special Edition
Bushwick
Anime
Bleach (TV) Set 3 (BD) 28eps
Flying Witch
Log Horizon Complete Collection
Ushio & Tora – Premium Box Set
[amazon_link asins='B071GRTQTN,B071GRTLYL,B0721QYFRB,B074R1PVQ6,B073V7451J,B0746Z9TGX,B073XXTL9Y' template='ProductGrid' store='API-user-hdr' marketplace='US' link_id='243d6018-90bd-11e7-8a5c-0103e69e74e3′]