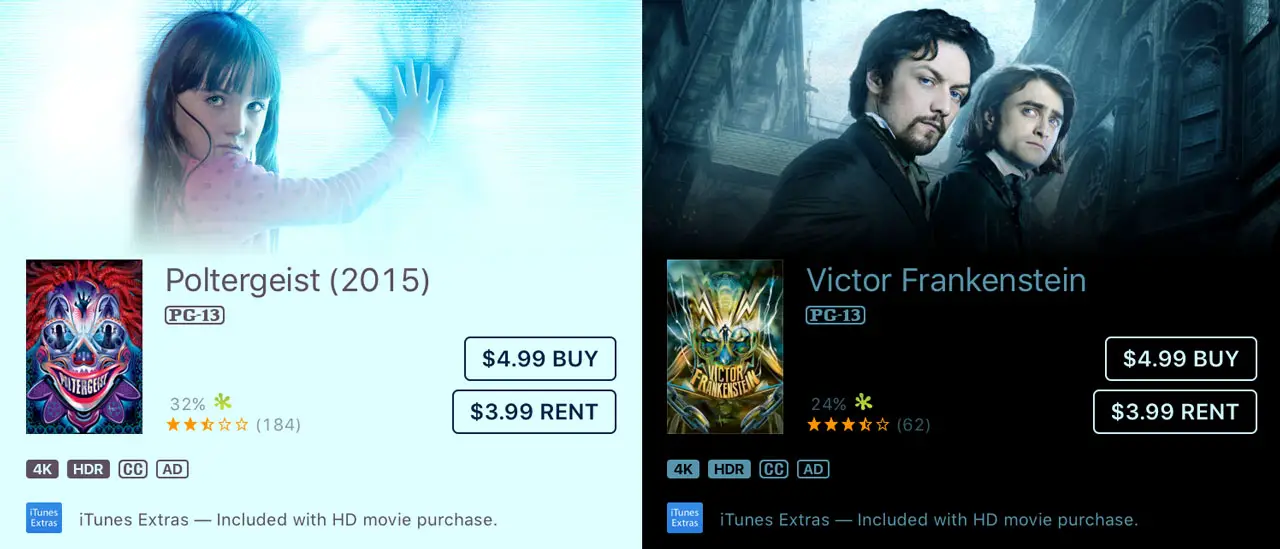 We're always looking for digital deals, especially when it comes to 4k resolution. This week we spotted two films from Apple's $4.99 "Horror Through the Years" sale that are offered in 4k/HDR: Poltergeist (2015) and Victor Frankenstein (2015).
Apple now includes 4k/HDR with the purchase of HD resolution, so getting a film in Ultra HD for less than $5 bucks is a true rarity. When viewing titles in iTunes Movies or on Apple TV 4k, look for the tiny icon next to "CC" (Closed Captioning) that says either HD or 4k. If it says 4k (which indicates the highest quality the title will play in) there should also be an adjacent icon for either HDR (HDR10) or Dolby Vision — the two options for High Dynamic Range video.
There are plenty of other horror films offered in the iTunes sale, such as Jennifer's Body (2009), The Hills Have Eyes (2006), Killer Klowns from Outer Space (1988), and 28 Days Later (2002), but unfortunately the highest quality those titles will play in is HD (unless, at some point Apple upgrades more archived titles to 4k).
By the way, each movie thumbnail on iTunes has been enhanced with a day-of-the-dead-looking image (see above pic), so look for the text title rather than poster otherwise you'll be scratching your head trying to find a specific movie.
To see what other movies iTunes sells in UHD, view this list of 4k Movies on Apple TV 4k.