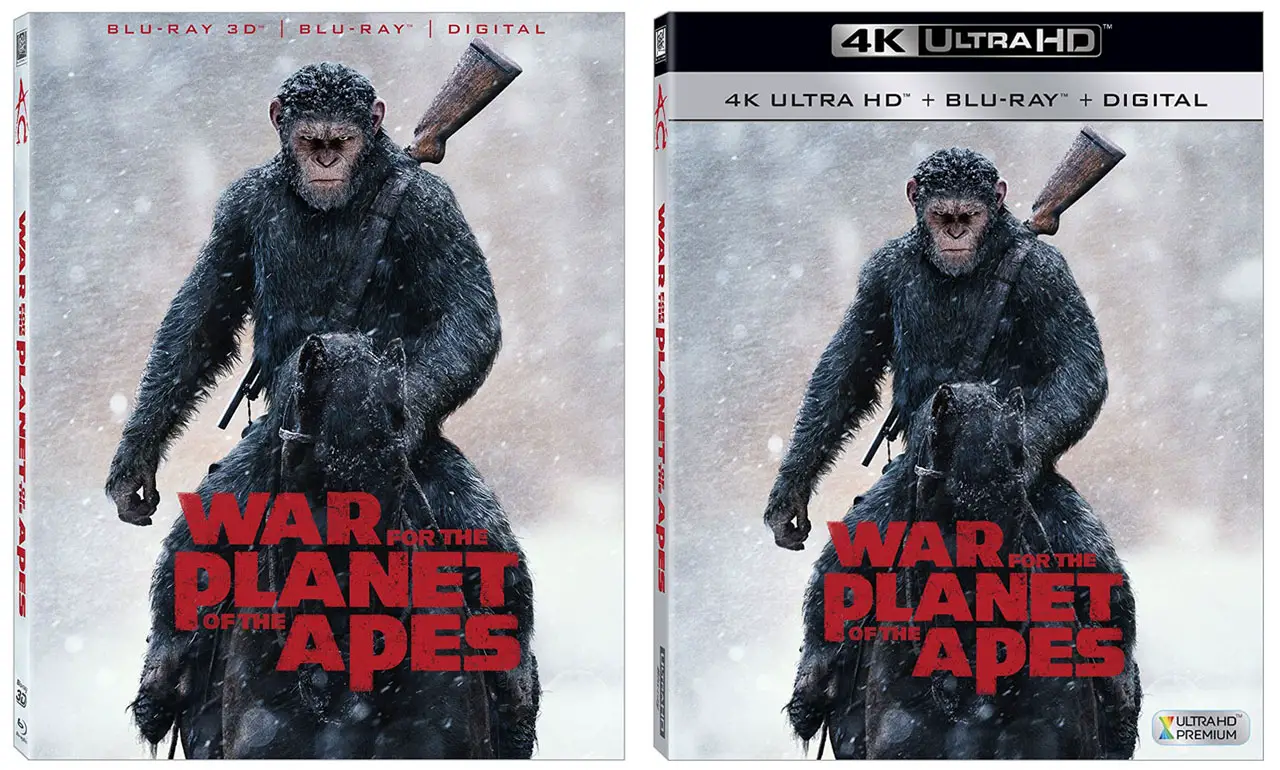 War for the Planet of the Apes, released to theaters this summer, has grossed over $350M at the worldwide box office. On Oct. 24th, 20th Century Fox brings the film to home media on several different disc formats including Blu-ray, 3D Blu-ray, 4k Blu-ray, and of course DVD. The film will likely be released early to digital one or two weeks ahead of disc.
On Blu-ray and 3D Blu-ray, War for the Planet of the Apes is encoded with MPEG-4 video compression at 1080p resolution, while the Ultra HD Blu-ray edition utilizes more advanced HEVC compression at 2160p resolution.
We expect the soundtrack to be available in Dolby Atmos, given previous franchise film Dawn of the Planet of the Apes , was provided in DTS-HD Master Audio 7.1 (usually a backup for systems that don't support Dolby Atmos), and FOX seems to improve audio upon each release.
Bonus materials include deleted scenes with optional audio commentary, several featurettes, a concept art gallery, and film commentary with director Matt Reeves. Each Blu-ray combo edition also comes with a second disc and a digital copy.
Copies of War for the Planet of the Apes in the Blu-ray combo format are selling for $19.99 (Blu-ray, $22.99 (3D Blu-ray), and $24.99 (4k Blu-ray). See current pricing below from Amazon.
War for the Planet of the Apes is the third film in the franchise's reboot series that started with Rise of the Planet of the Apes (2011) and is preceded by Dawn of the Planet of the Apes (2014). The franchise continues to build on close to 50 years of history, beginning with 1968's Planet of the Apes based on the French novel "La Planète des Singes."
War for the Planet of the Apes Bonus Material
Deleted Scenes (with optional Audio Commentary by Matt Reeves)
Scene Comparisons
Waging War for the Planet of the Apes
All About Caesar
WETA: Pushing Boundaries
Music for Apes
Apes: The Meaning of it All
The Apes Saga: An Homage
Concept Art Gallery
Commentary with Matt Reeves
[amazon_link asins='B071GRTQTN,B071GRTLYL,B0721QYFRB' template='ProductGrid' store='API-user-hdr' marketplace='US' link_id='243d6018-90bd-11e7-8a5c-0103e69e74e3′]