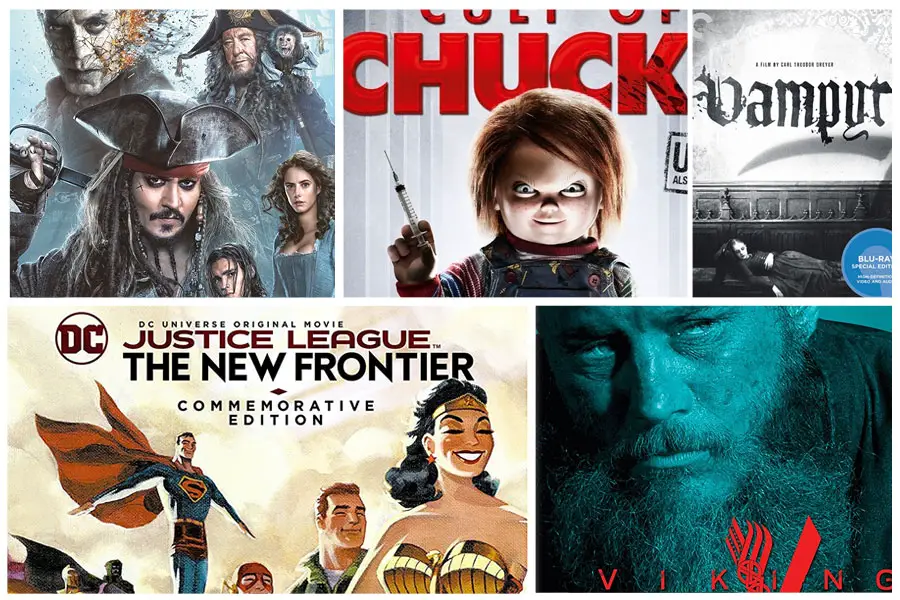 This is a big week for new Blu-ray releases, with close to 70 new titles to choose from. Of course, many of these new BDs are re-issues and special editions such as Night of the Living Dead 50th Anniversary and A Fish Called Wanda Special Edition. And, there are plenty of collections released this week including Superman The Movie: Extended Cut & Special Edition 2-Film Collection and Chucky: Complete 7-Movie Collection.
But, we've got some must-have movies like Pirates of the Caribbean: Dead Men Tell No Tales, A Ghost Story, The Book of Henry, and just in time for Halloween Cult of Chucky and Criterion Collection's reissue of Vampyr (1932).
This week also brings several TV series to Blu-ray such as House of Cards: Season 5, Vikings: Season 4 – Volume 2, and American Horror Story: Season 6, as well as several anime series collections like Naruto Shippuden The Movie Rasengan Collection.
And, there are also quite a few new 4k Blu-ray releases this week for those of you who own an Ultra HD Blu-ray player and 4k TV, including Pirates of the Caribbean: Dead Men Tell No Tales, Kick-Ass, The Bridge on the River Kwai, Warm Bodies, and Bram Stoker's Dracula 25th Anniversary (see more October 4k Blu-ray releases).
New on Blu-ray, Oct. 3, 2017
Ultra HD Blu-ray
Kick-Ass
The Bridge on the River Kwai
Warm Bodies
Bram Stoker's Dracula 25th Anniversary
Pirates of the Caribbean: Dead Men Tell No Tales (also Best Buy & Target exclusives)
Blu-ray
TV
House of Cards: Season 5
Vikings: Season 4 – Volume 2
Dragon Ball Super: Part Two
American Horror Story: Season 6
iZombie: The Complete Third Season
Loch Ness, Series 1
Movies
Pirates of the Caribbean: Dead Men Tell No Tales
Children Of The Corn (1984)
Lost Horizon (1937)
Cult of Chucky
The Hidden
A Ghost Story
The Book of Henry
Vampyr (1932) – Criterion Collection
Night of the Living Dead – 50th Anniversary
A Fish Called Wanda (1988) – Special Edition
Justice League: New Frontier Commemorative Edition
Justice League vs. Teen Titans / Gods & Monsters / Throne of Atlantis
The Farthest – Voyager in Space – PBS
976-Evil (1989)
Don't Torture A Duckling (1972)
Popcorn – Special Edition
Goon: Last of the Enforcers
WWE: Dawn of the Attitude
Home For The Holidays (1995)
Little Shop of Horrors: The Director's Cut + Theatrical
Jackals
Buffy The Vampire Slayer
The Suspicious Death of a Minor (1975)
Sniper: Ultimate Kill
The Wizard of Lies
Haunters: The Art of the Scare
Kill and Kill Again (1981)
Prancer (1989)
Stone Cold Dead (1980)
City of Industry (1997)
Yes Virginia, There Is a Santa Claus (1991)
Harold and Lillian: A Hollywood Love Story (1915)
Fabricated City
Original Gangstas (1996)
Atomica
A Woman's Life
Woman on Fire
Human
Collections
The Divergent Series 3-Film Collection
Superman The Movie: Extended Cut & Special Edition 2-Film Collection
Chucky: Complete 7-Movie Collection
The Expendables 3-Film Collection
Naruto Shippuden The Movie Rasengan Collection
Home Alone 2-Movie Collection
Hinako Complete Collection
Golden Time: Complete Collection