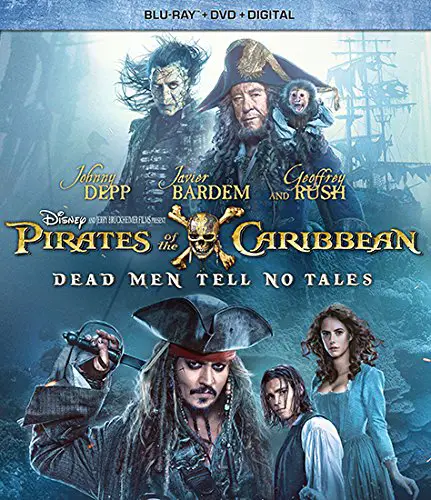 Some of the biggest Blu-ray releases are sold out on Amazon upon release date, most notably Disney titles such as Rogue One: A Star Wars Story, Doctor Strange, and last summer's Guardians of the Galaxy Vol. 2. In addition, Warner Bros.' recent 4k Blu-ray print of Blade Runner: The Final Cut was also sold out. Today, we find Disney's Pirates of the Caribbean: Dead Men Tell No Tales is yet another Disney title temporarily out of stock.
However, Pirates of the Caribbean: Dead Men Tell No Tales is available on Amazon in Ultra HD Blu-ray and DVD, selling for $29.99 and $17.99, respectively. If you're a dedicated Amazon shopper and want to get your hands on 'Tell No Tales' right away, consider the Ultra HD Blu-ray edition that's just $7 more and includes a Blu-ray and Digital Copy.
Best Buy, Target and Walmart all seem to have copies, as well as exclusive retailer editions from Best Buy and Target (although Steelbooks are hard to get ahold of). Amazon will likely get more units in within a few days. See the product grid below for updated stock and prices.
[amazon_link asins='B06ZYGQBQV,B073ZWKBBW,B071R2GWSH' template='ProductGrid' store='API-user-hdr' marketplace='US' link_id='f7f23fc6-a85e-11e7-8b8b-9dfa171640ba']