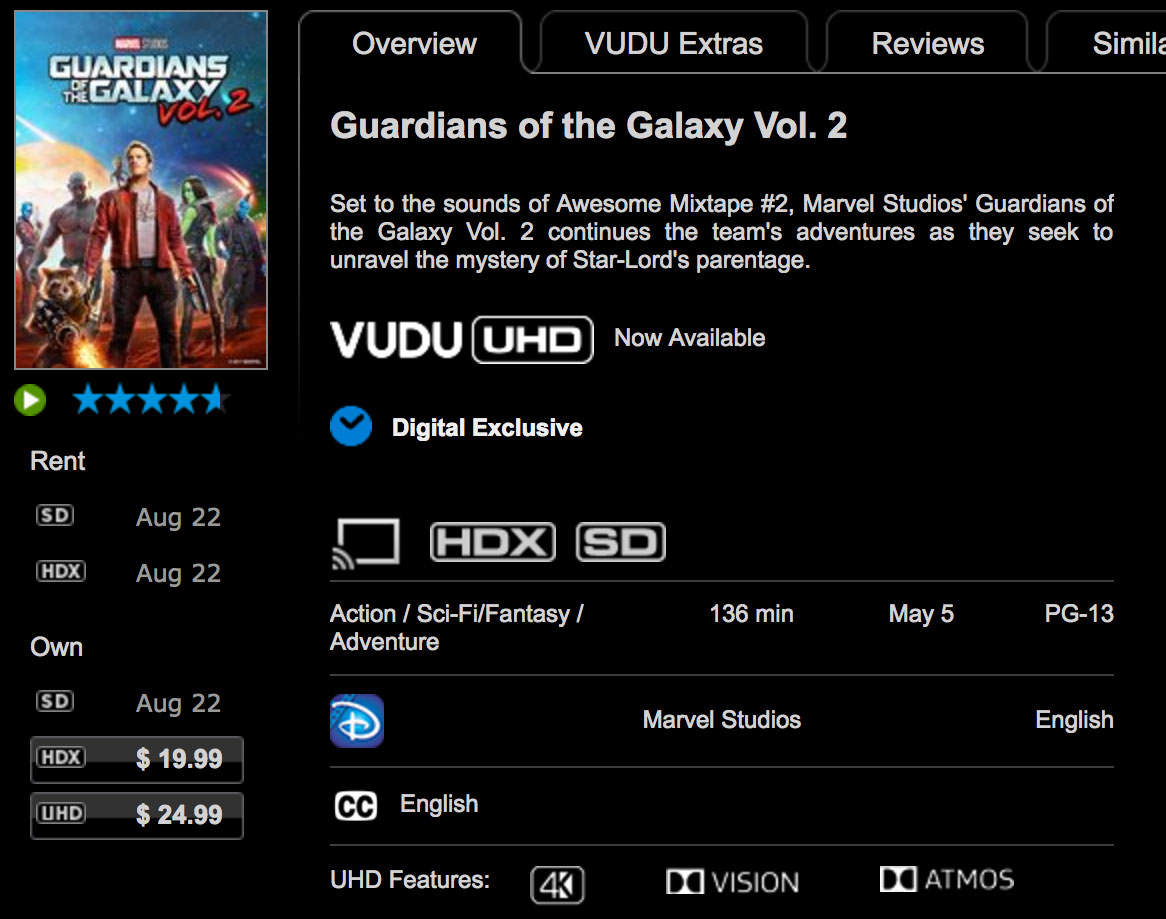 Fandango, Google Play, and Vudu are a few of the services that offer digital movies in 4k Ultra HD. New releases, however, are usually quite expensive — even more than some Ultra HD Blu-ray Disc titles. A new Digital 4k movie typically sells for $29.99, and you rarely see any deals or discounts on release date.
But Guardians of the Galaxy Vol. 2, now available to purchase digitally two weeks ahead of Blu-ray and DVD, is only $24.99 at Vudu. That's $5 less expensive than the majority of Vudu's UHD titles, and the cheapest we've found yet for a new blockbuster movie.
Even more reason to buy from Vudu, and not that we own any stock in Walmart, is that the Digital UHD format includes Dolby Atmos audio and Dolby Vision providing High Dynamic Range (HDR) color — the dual combo from Dolby that's become sort of a Holy Grail for videophiles. Guardians of the Galaxy Vol. 2 the first Disney movie released in this format
Dolby Vision through Vudu is limited to select TVs and devices though, including select LG and Vizio and Google's Chromecast Ultra. Here's a list of TV models compatible with Vudu's UHD format with and without Dolby Vision/HDR. A sound system must also be compatible to enjoy the immersive qualities of Dolby Atmos.
We're not sure if Guardians of the Galaxy Vol. 2 will be $24.99 forever, or just for a limited time. In any case head over to Vudu to check out the Digital UHD specs. The purchase also includes the bonus features below:
Guardians of the Galaxy Vol. 2 Vudu Digital Extras:
The Making of Guardians of the Galaxy Vol. 2
Deleted Scenes
Gag Reel
Guardians Inferno Music Video (ft. The Hoff)
Three Scene Breakdowns
Guardians of the Galaxy – Mission: Breakout (A look at the new Disneyland ride)