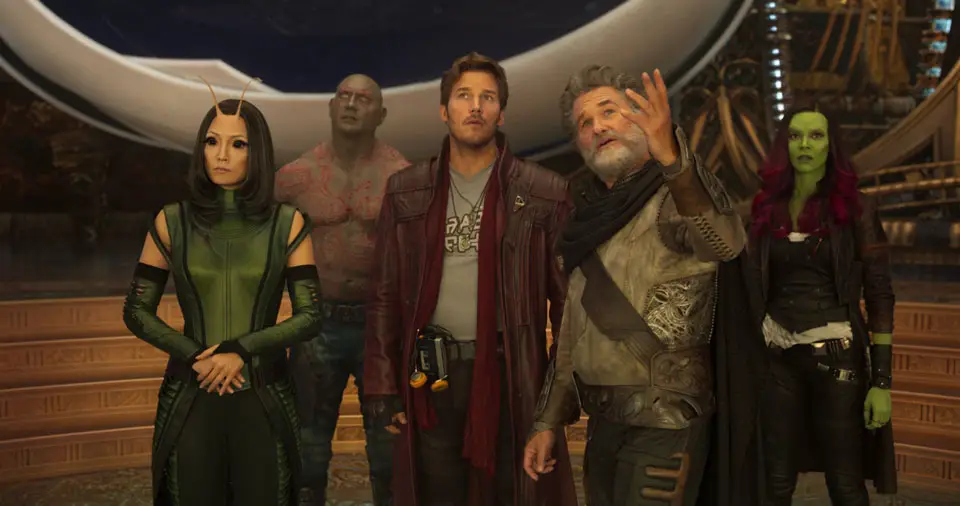 Guardians of the Galaxy: Vol. 2 is destined to be one the biggest Blu-ray releases of the year, and like many blockbuster films retailers including Best Buy, Target and Walmart have partnered with Disney to bring exclusive editions to stores.
Those editions all bring something unique to the Blu-ray release of the film such as collectible SteelBook packaging, booklets, t-shirts, exclusive video content, and other goodies that vary depending on movie.
Extra bonus material confirmed for the common Blu-ray releases and likely to be included with the exclusives feature an exclusive music video with special guest stars, a gag reel, deleted scenes, and more. The retailer exclusives will likely include those extras, but can also sweeten the pot with additional bonus material.
Some of these exclusives get delivered to stores in limited quantities (for example, the nearby Best Buy store may only get 3 copies of a SteelBook edition upon first delivery), so once you decide what edition you want it's best to pre-order a copy.
Here's a breakdown of the exclusive retailer editions of Guardians of the Galaxy: Vol. 2.
Best Buy SteelBook Editions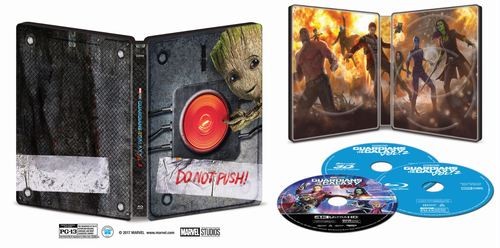 Best Buy has confirmed both Blu-ray and 4k Blu-ray editions of Guardians of the Galaxy: Vol. 2 in collectible SteelBook packaging with baby Groot "Do Not Push" illustration. The former is a 2-disc edition with a DVD and Digital HD copy, while the latter is a 3-disc edition with Blu-ray, 3D Blu-ray, and 4k Blu-ray copies, as well a digital copy to redeem. We're not yet sure if the digital redemption code will provide a Digital UHD copy but will let you know once/if confirmed.
Price: Blu-ray: $29.99, Ultra HD Blu-ray: $34.99
---
Target Exclusive Edition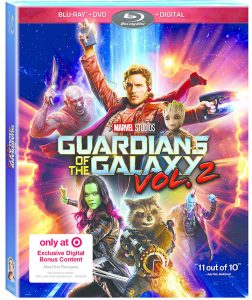 Target will release a special "Only @ Target" Blu-ray edition of Guardians of the Galaxy: Vol. 2 with an exclusive "Meet The Ravagers" documentary that includes interviews and feature film footage of Ravager characters such as Yondu, Taserface and the "honorable" Ravager (played Sylvester Stallone). The combo edition includes a Blu-ray, DVD and Digital HD copy (not available in 4k Blu-ray).
Price: Blu-ray: $24.99
---
Walmart Exclusive Edition [Updated]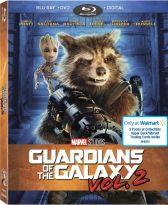 Walmart is apparently going to release an exclusive Blu-ray edition of Guardians of the Galaxy: Vol. 2, but so far all we have is this low resolution image that shows unique artwork featuring Rocket Raccoon (which might be preferable to the standard Blu-rays, but equally as likable as the Best Buy exclusives). It looks like from the sticker on the slipcover there will be 3 exclusive pieces of content included in this Blu-ray combo edition with DVD and Digital HD copy. [Update Aug. 10: Walmart has finally uploaded a better quality image of their exclusive edition, but the Only @ Walmart sticker is no longer there — making us wonder what the edition will really have besides unique cover art (pictured below).]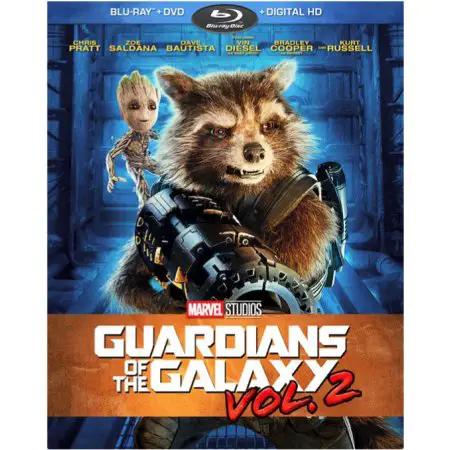 Price: $24.96 (List: $39.99)
Get more Blu-ray Disc news and 4k Blu-ray news on our dedicated channels.
[amazon_link asins='B06ZXWR8C5,B073LF8C4K' template='ProductGrid' store='API-user-hdr' marketplace='US' link_id='4300fd34-7ee8-11e7-aada-6d6b7f275a86′]