20th Century Fox will release Logan to Blu-ray, 4k Blu-ray on Tuesday, May 23rd, and along with standard disc editions will come several retailer exclusives from Best Buy, Target and Walmart. Each exclusive edition has its own reason to buy, so choosing which one may be a tough decision. Here's where we break down what makes each exclusive different.
But first, for those interested in the technical details of the discs themselves here are the details. Logan on standard Blu-ray is formatted in 1080p, while the 4k Ultra HD Blu-ray edition features 2160p resolution with HDR (High Dynamic Range) color. Both formats include an English DTS-HD Master Audio 7.1 soundtrack, but if you're lucky enough to have an audio system that plays Dolby Atmos the 4k Blu-ray disc supports it.
Both formats include the black-and-white edition of the film titled Logan Noir, as well as deleted scenes, the behind-the-scenes documentary "Making Logan," and digital copies. Pre-orders of Logan on Blu-ray are selling for $19.99, and the 4k Blu-ray is priced at $24.99.
Here are the exclusive retail editions.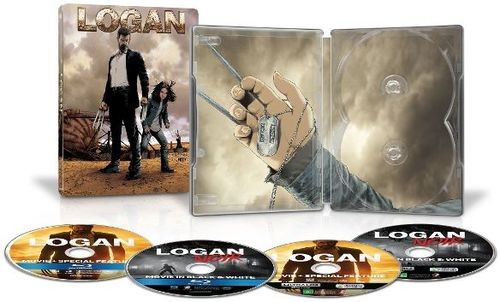 'Logan' Best Buy Exclusive
Best Buy's exclusive retail editions of Logan are available in either a 3-disc Blu-ray or 4-disc Blu-ray combos. Each edition features special Steelbook packaging with Logan and X-23 drawn by "Old Man Logan" comicbook illustrator Steve McNiven. And, the extras mentioned above including Logan Noir and digital copies are also part of the deal. The Blu-ray edition is selling for $21.99 (List: $26.99), while the 4k Blu-ray is selling for $26.99 (List: $29.99).
---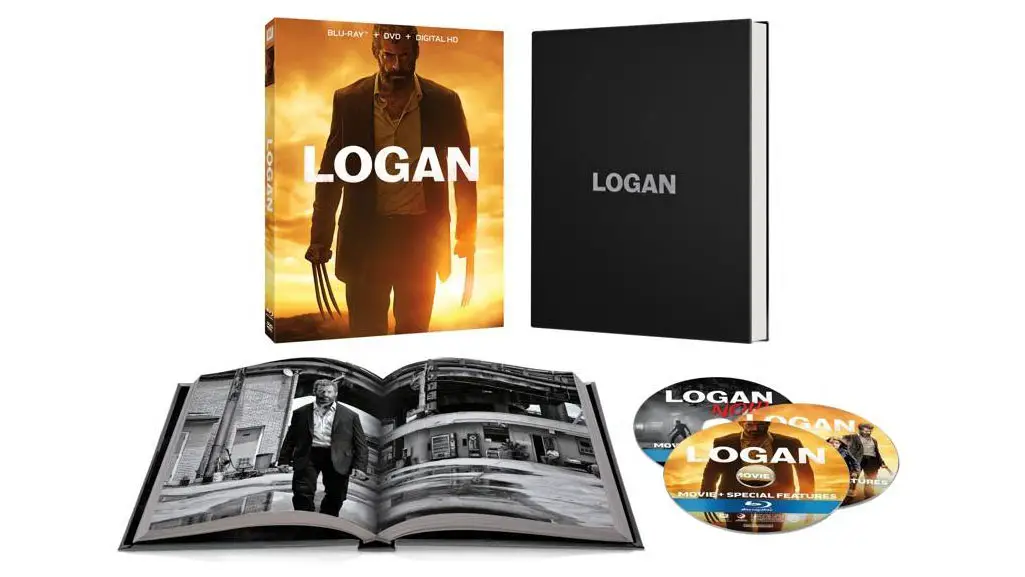 'Logan' Target Exclusive
Target's exclusive Blu-ray edition of Logan is certainly tempting considering it comes with an exclusive 36-page photo collection containing black and white photo prints taken from the set. The 3-disc edition includes the extras mentioned above, but it appears Target is only printing the standard Blu-ray for this exclusive. As of this article the edition wasn't available to pre-order online (the product says Coming Soon), so hopefully stores will have a few of these discs in stock on release date. Price: $19.99 + $5 gift card preorder.
---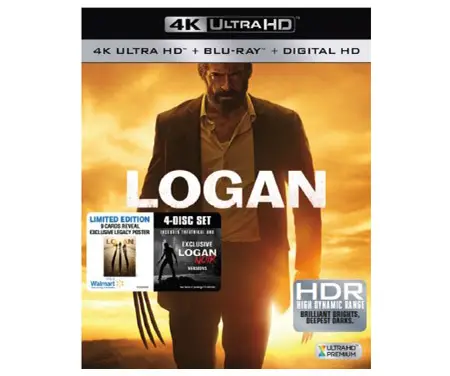 'Logan' Walmart Exclusive
Like Best Buy, Walmart is offering their exclusive retailer edition in both Blu-ray and 4k Blu-ray editions. Only, both sets include a 9-card character set that when put together reveal an exclusive Legacy Poster. (We'll try to get better artwork than what's presented above.) The 3-disc Blu-ray edition is selling for $19.96 (List: $39.99) and the 4k Ultra HD Blu-ray edition $27.22 (List: $39.99). Both exclusives are currently out of stock to order online but the stores should be carrying a limited quantity upon release date.
Get more details on the Blu-ray and 4k Blu-ray editions, or pre-order Logan here.