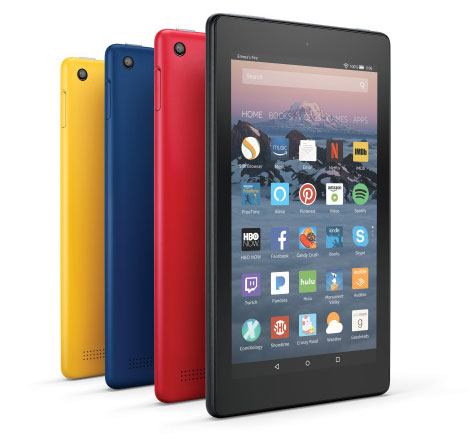 Amazon has added the new Fire 7 its tablet lineup, with a thinner and lighter design than previous models that Amazon claims is "more durable than the latest iPad." The Fire 7 has an improved 7" IPS display, increased battery life up to 8 hours, 1GB RAM, improved connectivity with single-band and dual-band Wi-Fi, and Alexa voice control. The Fire 7 can be configured with either 8GB or 16GB of storage (expandable to 256GB via microSD) and starts at $49.
The second big announcement from Amazon was that the price of the new Fire HD 8 tablet has been dropped to $79. The tablet comes with an 8" HD display (rendering over 1 million pixels), 16GB or 32GB storage (expandable to 256GB via microSD), up to 12 hours of battery life, and has added Alexa for voice control. Like the new Fire 7, the Fire HD 8 runs on a 1.3 GHz quad-core processor but with slightly more RAM at 1.5GB. And, houses a front-facing VGA camera and 2 megapixel rear-facing camera with up to 720p HD video recording.
Both the Fire 7 and Fire HD 8 are available to pre-order and will start shipping June 7.