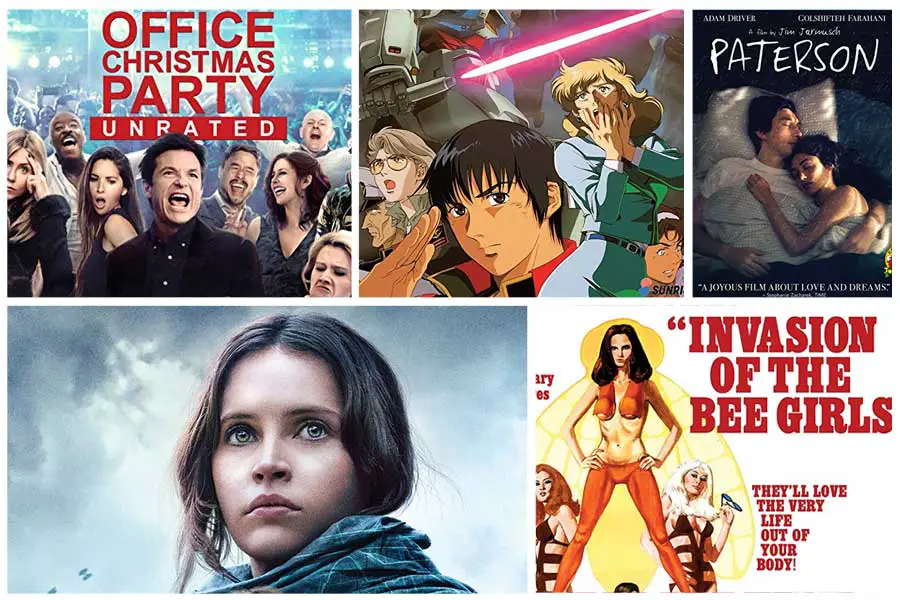 The first Tuesday of April isn't exactly chock full of blockbuster titles. No one, it seems, wanted to tangle with the release of Rogue One: A Star Wars Story except for the comedy Office Christmas Party, several anime titles, a few re-released movies, and some oldies.
Rogue One: A Star Wars Story, coincidentally, is already out-of-stock on Amazon and in high demand at other stores. If you're not committed to the standard Blu-ray release, check out exclusive Blu-ray editions of 'Rogue One' from Best Buy, Disney, Target, and Walmart.
And, don't forget this week's classics on Blu-ray including Shirley Temple in Miss Annie Rooney (1942), and the very strange, very B-grade, Invasion of the Bee Girls (see trailer below). Here are more Blu-ray releases this week.
New on Blu-ray, April 4, 2017
Movies
Rogue One: A Star Wars Story
Office Christmas Party – Unrated
Paterson
Finding Forrester
Don't Kill It
Punchline
We Go on
Little Nikita
Tank 432
Gas, Food, Lodging
The Institute
Anime
Mobile Suit Gundam 0083 Complete Collection
Martian Successor Nadesico Complete Collection
Girls Beyond the Wasteland
Oldies
Invasion of the Bee Girls (1973)
Ride the High Country (1962)
Miss Annie Rooney (1942)
Mr. Deeds Goes to Town (1936)
Collections
Psycho Circus – 3 Rings of Terror Triple Feature
Thriller Triple Feature – Wind Chill, Closure, Perfect Stranger