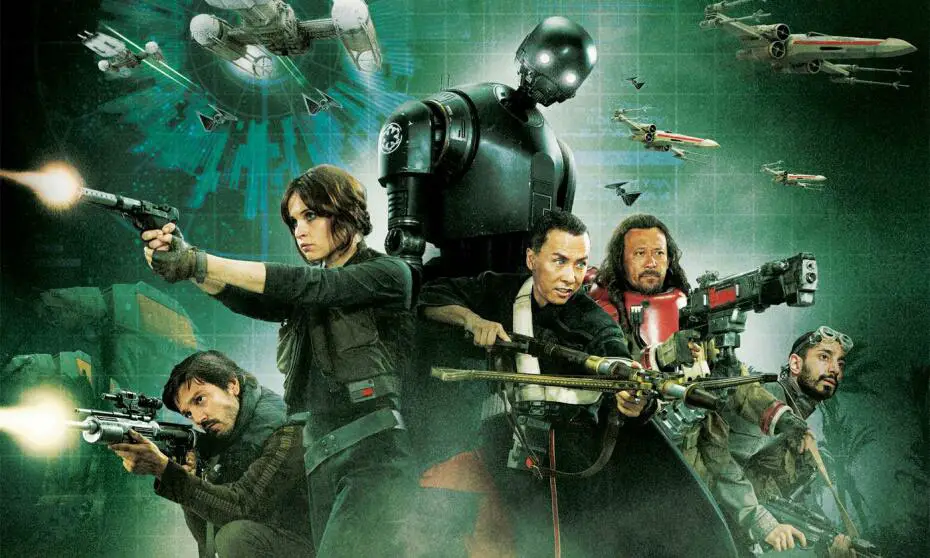 Rogue One: A Star Wars Story will release to disc on Tuesday, April 4th, and along with the standard Blu-ray and Blu-ray 3D editions will come several exclusive retail versions. Those partnering on the packaged media editions include Target, Best Buy, Walmart, and the Disney Store.
On Blu-ray, Rogue One: A Star Wars Story is formatted in 1080p with a 24-bit DTS-HD Master Audio 7.1 soundtrack. And, along with close to a dozen bonus featurettes each edition includes a Digital HD copy to download or stream.
Here's a look at the exclusive retailer editions.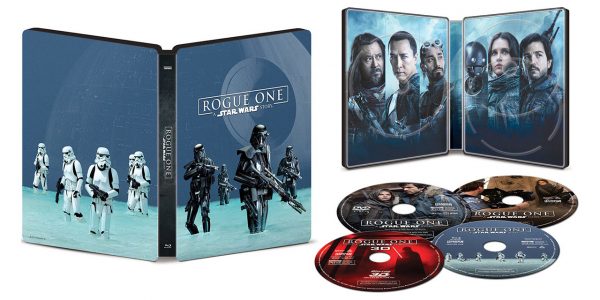 Best Buy
Best Buy's exclusive edition of Rogue One: A Star Wars Story comes in a 4-disc set with copies of the film in 3D Blu-ray, Blu-ray, DVD and Digital HD. The fourth disc contains extra bonus material, and everything is packaged nicely in a special SteelBook case, with images of Shadow Troopers on the front and traditional Stormtroopers on the back. Price: $29.99
---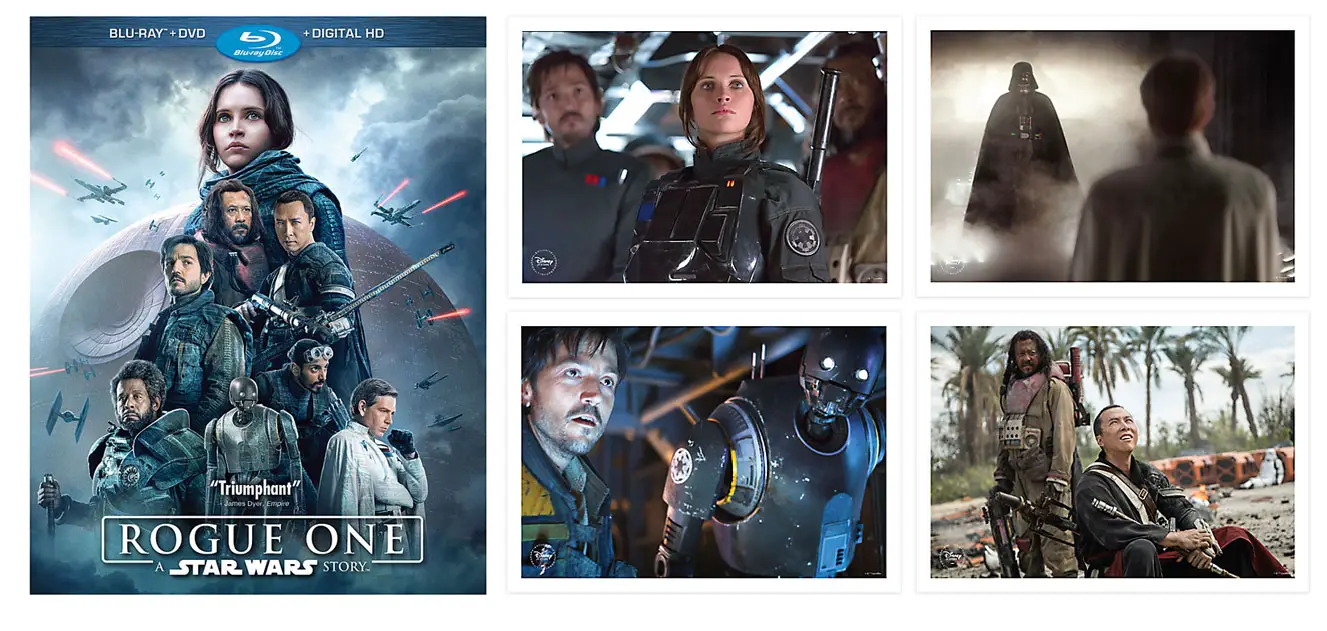 Disney Store
The Disney Store is releasing a Blu-ray combo pack that includes a set of four collectible lithographs with special Disney seal stamped in gold foil. Also included is $10 off an online purchase of $40 or more made between April 4 and 16. Both offers are only good for pre-orders of Rogue One: A Star Wars Story made by April 3rd. The 3-disc edition includes Blu-ray, DVD, bonus disc, and Digital HD copies (no 3D Blu-ray). Price: $24.95
---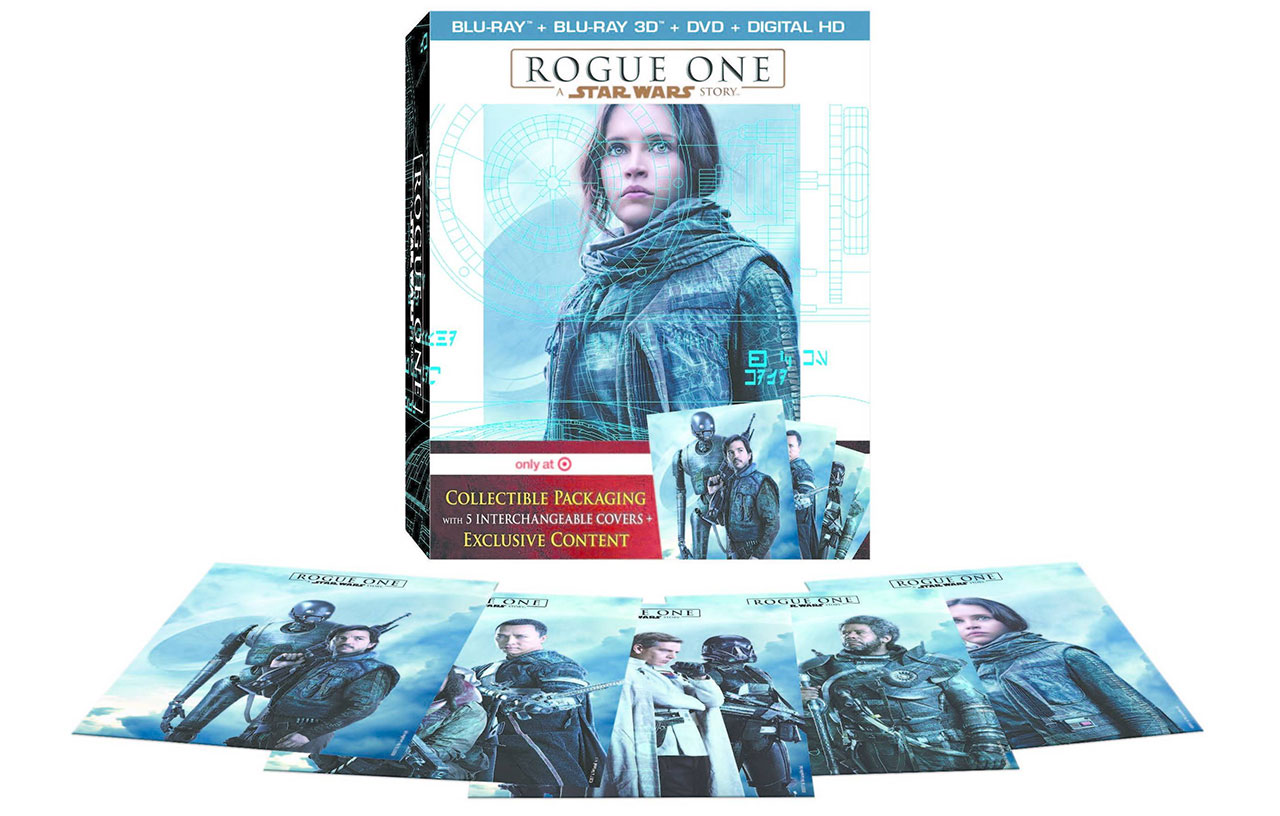 Target
Star Wars heroine Jyn Erso is featured on the cover of Target's exclusive Blu-ray edition of Rogue One: A Star Wars Story, but can be swapped out with a choice of five interchangeable covers (seen above) This impressive 5-disc set includes Blu-ray, Blu-ray 3D, DVD, and Digital HD copies, along with a Target Exclusive disc and extra bonus content disc. Exclusive content includes the featurettes "Inside the Creature Shop," an inside look at the film's aliens with Creative Supervisor Neal Scanlan, a digital storytelling component, and a look at the technology used to produce the film. Price: $27.99
---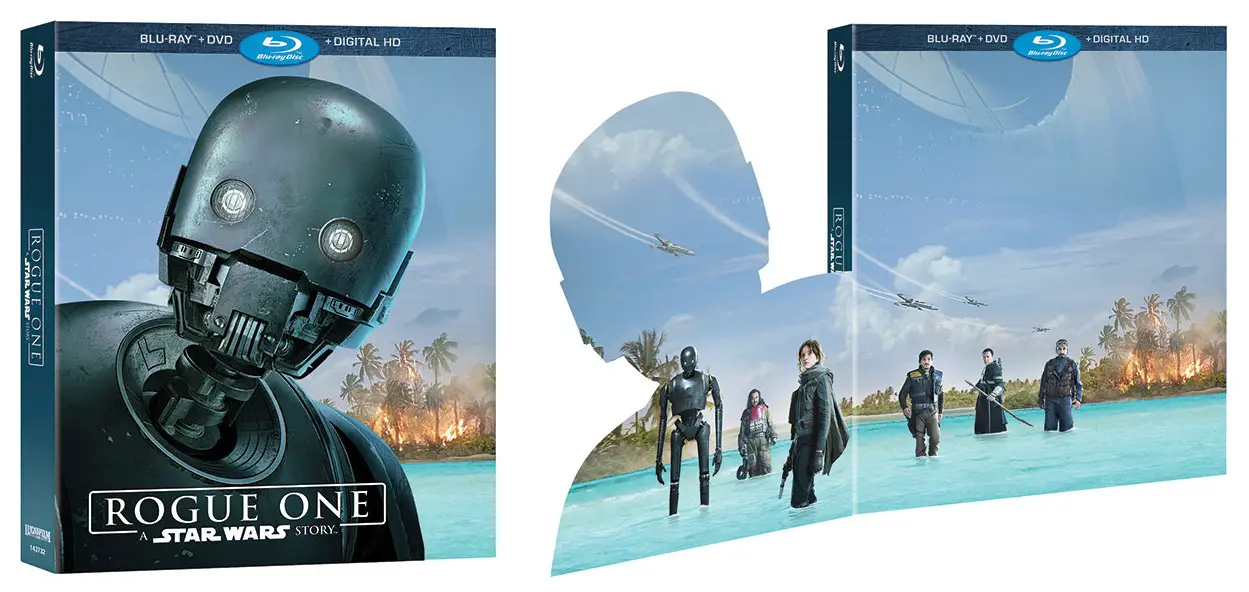 Walmart
Walmart's exclusive edition of Rogue One: A Star Wars Story is a 3-disc edition with special packaging and two collectible Star Wars Galactic Connexions trading discs. The front package features the new Star Wars droid K-2SO, which folds out to reveal a scene from the battle at Scarif Beach. The edition includes Blu-ray, DVD, and Digital HD copies (no 3D Blu-ray copy). Price: $24.96