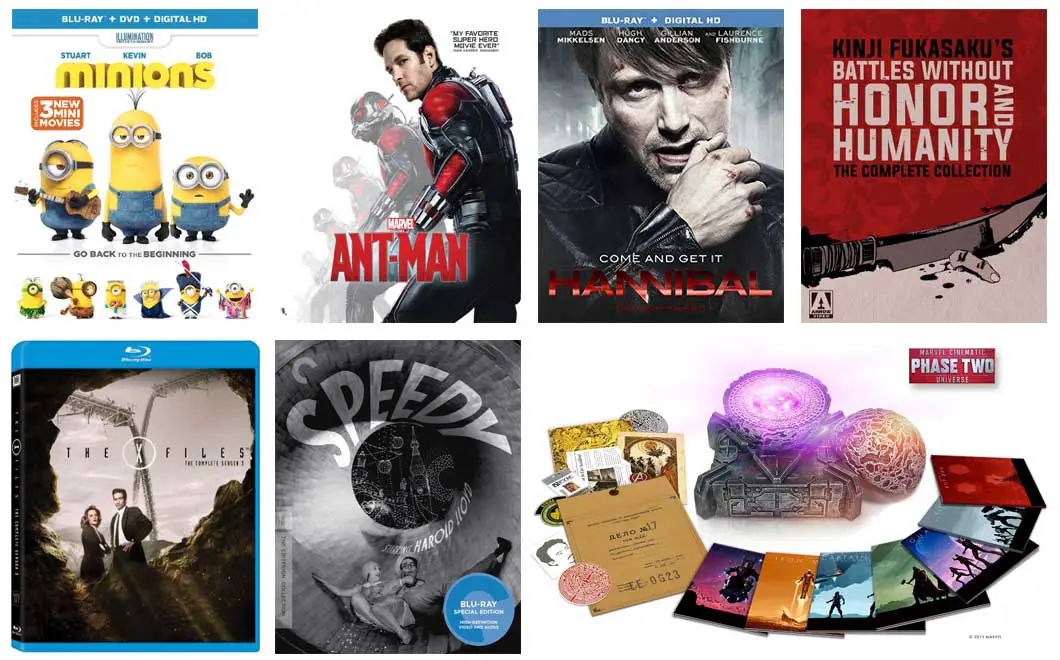 This week is a big week for new Blu-ray Disc releases, with a couple blockbuster films and one of the most popular science fiction TV shows in history hitting shelves. Here's a look at our top picks for the week of December 8th, 2015.
Minions tops our list this week with both 3-Disc (Blu-ray 3D) and 2-disc (Blu-ray) editions from Universal Studios. Each edition includes a DVD and Digital HD copy redeemable with either UltraViolet or iTunes. The release also includes bonus materials such as an "Around the World Interactive Map," deleted scene, and three mini-movies. (MSRP: $49.99 Blu-ray 3D, $34.99 Blu-ray)
Marvel Studios' Ant-Man has been released to Blu-ray and Blu-ray 3D, both with Digital HD copies redeemable with Disney Movies Anywhere or Apple iTunes. The editions also include plenty of bonus materials such as behind-the-scenes content, extended and deleted scenes, audio commentary, and additional featurettes. (MSRP: $39.99 Blu-ray 3D, $32.99 Blu-ray)
And, Fox's hit television series X-Files is now available in nine single-season Blu-ray editions (with six Blu-ray discs in each edition – MSRP: $29.99), or in the X-Files: The Collector's Set (MSRP: $299) with over 23 hours of extras including documentaries, special effects sequences and deleted scenes, and commentary from creator Chris Carter. Each single-season edition also includes bonus material such as deleted scenes, commentary, and documentary shorts.
New on Blu-ray Disc, Dec. 8, 2015
TV Shows
X-Files: The Complete Seasons 1 – 9 (Single Blu-ray editions)
X-Files: The Collector's Set
Hannibal: Season Three [Blu-ray, Digital HD]
Doc Martin, Series 7
Under the Dome: Season 3
Movies
Minions [Blu-ray 3D, Blu-ray, Digital HD]
Knock Knock [Blu-ray, Digital HD]
Speedy (The Criterion Collection)
Jellyfish Eyes (The Criterion Collection)
Transporter Refueled [Blu-ray, Digital HD]
The Garbage Pail Kids Movie (1987)
Movie Collections
Marvel Cinematic Universe:  Phase 2 Collection (Amazon Exclusive) [Blu-ray 3D, Blu-ray, Digital HD]
Battles Without Honor and Humanity: The Complete Collection [Blu-ray, DVD]
Sports
2015 World Series Collection – Kansas City Royals
WWE: Owen – Hart of Gold
Documentaries
Ken Burns: The Civil War 25th Anniversary Edition
Classics
You Can't Take It with You (1938)
Bobbie Jo and the Outlaw (1976)
Check out last week's Blu-ray Disc releases (Dec. 1, 2015)