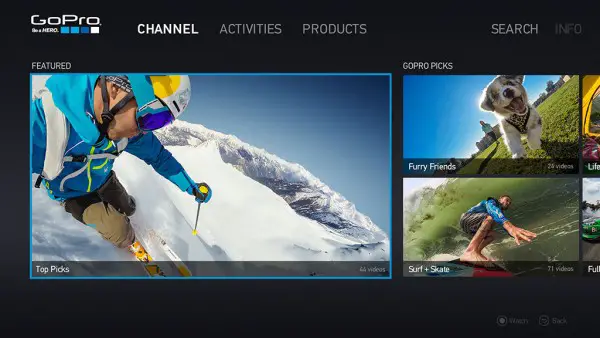 Amazon Fire TV and Fire TV Stick owners can now download the free GoPro channel with on-demand videos of sports, travel, culture, music, wildlife and other categories. The app interface includes user-controlled sorting by Featured Playlists, Activities, and Product Discovery, as well as Search by keyword or keyword phrase.
In addition, user-generated content from the GoPro community featured in GoPro Awards will be highlighted on The GoPro Channel.
Amazon Fire TV and Fire TV Stick owners can watch an exclusive GoPro video released specifically for this launch until Dec. 14.
"The GoPro experience on Amazon Fire TV will make it simple for users to watch GoPro originally-produced and "best of" user-generated content, and also learn about which capture devices, mounts and accessories were used to shoot the awesome footage," said Adam Dornbusch, Head of Global Business Development and Content Acquisitions at GoPro.
The GoPro channel is also available on Roku, Comcast Watchable, Sky, Vessel Entertainment, Xbox, LG and Virgin America.