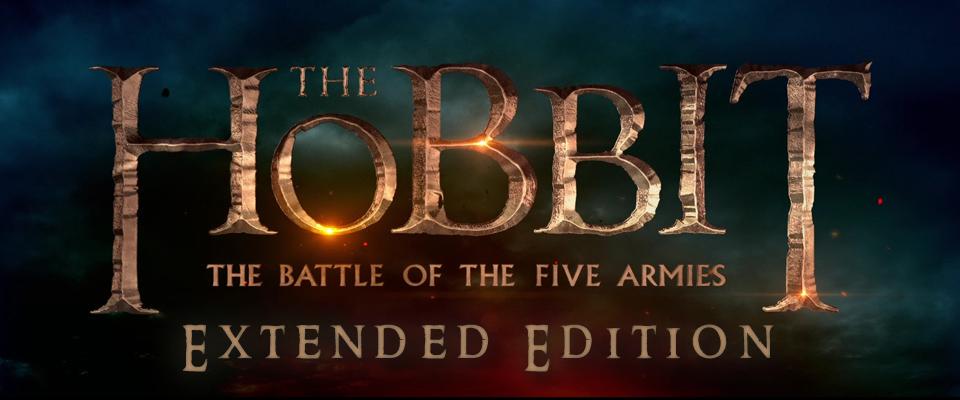 [Update 2: Warner Bros. has officially announced the release date for the Extended Edition on Blu-ray will be November 17th, 2015.]
[Update 1: The Hobbit: Battle of the Five Armies Extended Edition will release to theaters, along with the first two films, on October 13th, 2015. Read More]
Although an official announcement from Warner Home Video hasn't been made, the release date for The Hobbit: Battle of the Five Armies Extended Edition appears to be November 3, 2015. That is, at least, the date that several publications jumped on recently citing Blu-ray.com as the source.
While Blu-ray.com has never been wrong with release dates in our experience, not hearing it from the horse's mouth can certainly give pause. Amazon.com, another reputable source, has yet to reveal a release date or even offer pre-orders. Amazon's UK store, however, has posted a November 16th date for the Extended Edition, which may validate even further an early November release in the US.
Fans of 'The Hobbit' trilogy have been anxious for more footage of 'The Battle of the Five Armies.' since the theatrical release of the films on disc in March. A fall release will make for a much longer wait for the extended edition of the film, as the first two movies from the trilogy were released to extended editions in the summer following their theatrical release. [Removed: Editor]
The Extended Edition is expected to be about 30 minutes longer than the theatrical release, and may bring the entire run-time of 'Battle of the Five Armies' from 144 minutes to 174 minutes. The film's theatrical version is actually the shortest of the trilogy.
Footage rumored to be in the Extended Edition include Thorin's funeral, a chariot race with Balin at the helm, and additional Beorn material.
Like previous extended editions of the 'The Hobbit' films, the Blu-ray release will include plenty of bonus material and a Digital HD copy of the film redeemable with UltraViolet.
We don't have Blu-ray package art for the extended edition yet, but you can check out the title graphic posted by Richard Armitage on his "Armitage Global" Twitter account.
Sources: Blu-ray.com, Amazon UK 
[Last Updated August 25, 2015]