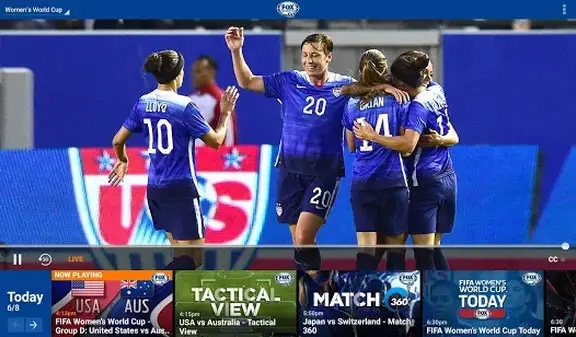 One app that's trending these days is the FOX Sports GO app for Google Android and Apple iOS devices. But the surge in downloads of the app shouldn't be attributed to a major overhaul or new features that blow your mind, but rather due to the success of the USA women's soccer team in the 2015 FIFA Women's World Cup.
USA surged past three teams in Group D including opponents such as Australia and Sweden, went on to face Columbia in the Round of 16, then had to make it past a tough China PR team in the Quarter-Finals. Last night, after defeating Germany 2-0 in the Semi-Finals, USA earned their right to the Final on Sunday, July 5th. They will face the winner of today's Semi-Final match between England and Japan. [Update: USA will play against Japan.]
The FOX Sports GO app provides live coverage of sports events including the 2015 FIFA Women's World Cup. Since FOX is covering the World Cup, FOX Sports GO is the only legitimate way to live-stream the matches. The updated apps for Android and iOS include performance optimization and some bug fixes that plagued earlier versions of the app.
With only two matches left in the 2015 FIFA Women's World Cup, download the free app and live-stream the games if you're away from a big screen TV. You'll just need to authenticate your TV service with a username and password (supported by most major providers) in order to view the network broadcasts.