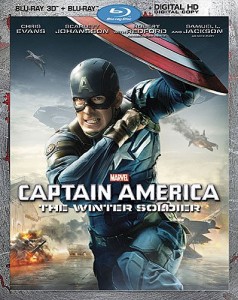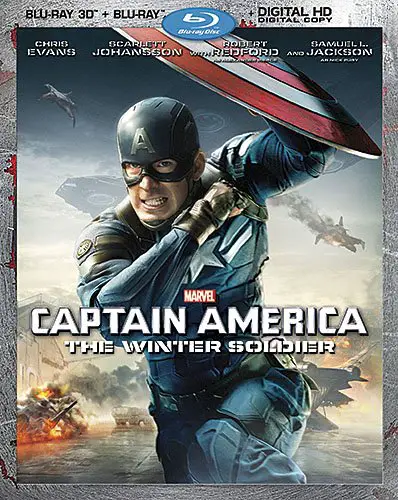 This week Captain America: The Winter Soldier is available from Walt Disney Studios Home Entertainment in both 1-Disc Blu-ray and 1-Disc DVD editions, as well as a 2-Disc edition with Blu-ray 3D and Blu-ray copies. Both of the Blu-ray editions also contain Digital HD copies from iTunes, as Disney doesn't support the UltraViolet digital platform.
Several 'Godzilla' films are now available from the Toho Godzilla Collections on Blu-ray Disc including Godzilla 2000, Godzilla Against Mechagodzilla, and Rebirth of Mothra films 1, 2 and 3. The disc sets coincide with Sony Movie Channel's Godzilla Mondays throughout the month of September.
And, for fans of J.J. Abrams' Star Trek films, Paramount has released Star Trek: The Compendium, a 4-Disc set with 257 minutes of content including never-before-seen footage and previously released bonus material.
TV show releases on Blu-ray this week include Season One of "Marvel's Agents Of S.H.I.E.L.D." with all 22 episodes and bonus material in a 5-Disc set from ABC/Marvel.
Warner Home Video has released "Supernatural: The Complete Ninth Season" in a 4-Disc Blu-ray edition that packs 1012 minutes of content and Digital HD copies of the episodes via UltraViolet.
"Homeland: The Complete Third Season" is now available in a 3-Disc set from 21st Century Fox that includes audio commentaries, deleted scenes, and two production featurettes.
And, this week we also see the releases of "Vampire Diaries: The Complete Fifth Season" in a 9-Disc set, "Little House on the Prairie: Season 3" in a 5-Disc set (with Digital HD copies), and the 70-minute first episode of the eighth season of titled "Doctor Who: Deep Breath."
Check out our picks for the week below.
TV Shows
Marvel's Agents Of S.H.I.E.L.D.: Season 1
Supernatural: Season 9 (Blu-ray & Digital HD)
Homeland: Season 3
Vampire Diaries: Season 5 (Blu-ray, DVD, Digital HD)
Little House on the Prairie: Season 3 (Blu-ray & Digital HD)
Doctor Who: Deep Breath
Movies
Captain America: The Winter Soldier (Blu-ray, Blu-ray 3D, Digital HD)
Star Trek: The Compendium
Fed Up
Brick Mansions (Blu-ray & Digital HD)
Godzilla 2000
Rebirth of Mothra / Rebirth of Mothra II / Rebirth of Mothra III – Vol
Godzilla Against Mechagodzilla / Godzilla, Mothra, and King Ghidorah: Giant Monsters All-Out Attack – Set
Prom Night
Young Frankenstein: 40th Anniversary
The Hornet's Nest Blu-ray
Live at the Rainbow 74 (Queen)
The Great Race
Pumpkinhead
The World Wars (Blu-ray & Digital HD)
Funny Thing Happened on the Way to the Forum (1966)
Addams Family
Willow Creek
Lemony Snicket's a Series of Unfortunate Events
Graduation Day
Korengal
Words & Pictures
Cotton Comes to Harlem (1970)
Across 110th Street (1972)
Flowers in the Attic
The Slave