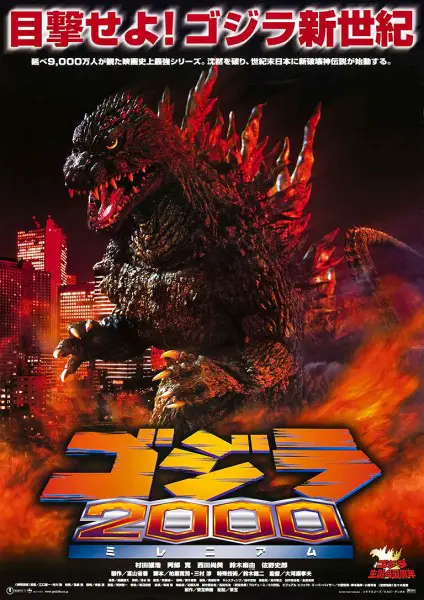 If you're a big fan of Godzilla films next week is the week to get your DVR ready to record Sony Movie Channel. Starting on September 1st, the network will begin airing Godzilla films every Monday night at 10 p.m., with re-broadcasts later in the evening. But if the Monday night airings don't fit your schedule, the network will broadcast most of the Godzilla films slated for the month (with the exception of Dragon Wars), sequentially starting at 9:30 a.m. on Monday.
While majority of the Godzilla movies scheduled for September are dated from within the last two decades, they are broadcasting the vintage film Mothra (1962) at 11:20 a.m. during the eight film marathon on Monday. And, while most of the Godzilla titles are Japanese-made (to our delight), Sony is airing the Hollywood blockbuster Godzilla (1998) starring Matthew Broderick.
Several of these films such Godzilla 2000 and Godzilla vs. Mothra are currently available to watch on Sony's Crackle.com for free with commercial interruptions. If you're looking to watch in the highest quality, however, wait for the TV broadcasts. For example, the 2002 film Godzilla Against Mechagodzilla is only available on Crackle to stream in 480p, but Sony Movie Channel broadcasts in 1080i – a much better resolution to enjoy Godzilla in all his greatness.
Monday, September 1
9:30 a.m. – GODZILLA VS. MOTHRA (1992)
11:20 a.m. – MOTHRA (1962)
1 p.m. – GODZILLA 2000 (2000)
2:40 p.m. – GODZILLA VS. MEGAGUIRUS (2003)
4:35 p.m. – GODZILLA AGAINST MECHAGODZILLA (2004)
6:10 p.m. – GODZILLA: TOKYO S.O.S. (2004)
7:45 p.m. – GODZILLA: FINAL WARS (2005)|
10 p.m. & 12:25 a.m. – GODZILLA (1998)
Monday, September 1
10 p.m. & 12:25 a.m. – GODZILLA (1998)
Monday, September 8
10 p.m. & 1:30 a.m. – GODZILLA VS. MOTHRA (1992)
11:45 p.m. & 3:15 a.m. – GODZILLA 2000 (2000)
Monday, September 15
10 p.m. & 1:20 a.m. – GODZILLA VS. MEGAGUIRUS (2003)
11:50 p.m. & 3:10 a.m. – GODZILLA AGAINST MECHAGODZILLA (2004)
Monday, September 22
10 p.m. & 1:50 a.m. – GODZILLA: TOKYO S.O.S. (2004)
11:40 p.m. & 3:30 a.m. – GODZILLA: FINAL WARS (2005)
Monday, September 29
10 p.m. & 2 a.m. – GODZILLA (1998)
12:25 a.m. & 4:25 a.m. – DRAGON WARS (2007)
Source: Sony Movie Channel