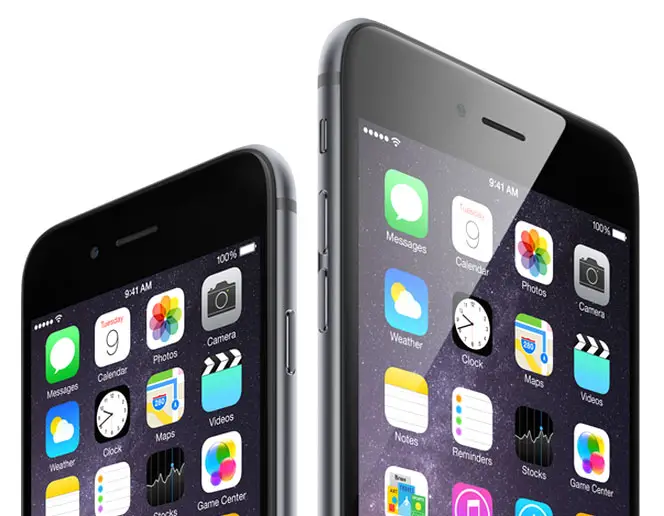 Apple today revealed new products that include the much anticipated and widely rumored iPhone 6, the Apple Watch, iOS 8, and Apple Pay among other announcements. Let's start with the iPhone 6 that comes in two models: iPhone 6 and iPhone 6 Plus. We all knew the next iPhone would be bigger than the iPhone 5 and 5s. But how much bigger? It turns out the iPhone 6 is built with a 4.7-inch screen (that's 0.7-inches bigger than the 4.0-inch screen on iPhone 5s), and the iPhone 6 Plus with a 5.5-inch screen (a full 1.5-inches larger than the 5s).
But while the screen sizes got bigger on the iPhone 6, the profile (or thickness) was reduced from previous models. The iPhone 6 is measured at 6.9mm, and the iPhone Plus 7.1mm. Compare those measurements to the iPhone 5s with a thickness of 7.6mm and you'll see how Apple has progressively been slimming down the iPhone with every model.
In terms of display resolution, the iPhone 6 has 1334 × 750 pixels while the iPhone 6 Plus has 1920 × 1080 pixels. Each model has a multi-touch Retina HD display.
What about price? The iPhone 6 will start at $199 (16GB), and the larger iPhone 6 Plus at $299 (16GB). Both iPhones will be released on September 19th.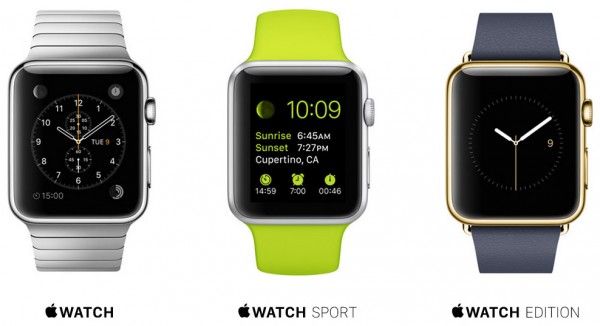 Apple also announced the Apple Watch, a wearable device that will allow you to send messages, listen to music, check your pulse and record daily activity, and receive notifications and alerts (with a "gentle tap"). Apple says the watch is able to keep time within 50 milliseconds of the definitive global time standard, and automatically adjusts to whatever time zone you happen to be in.
The Apple Watch, releasing sometime early 2015, will be available in three configurations including the basic Apple Watch, Apple Watch Sport, and Apple Watch Edition. The Apple Watch will start at $349.
And, for software, Apple also announced iOS 8 and Apple Pay. iOS 8 (to release on September 17th), will include updates to Messages and Photos, new Family Sharing options, and improved Spotlight feature among other improvements. And, the OS is supposedly the biggest update for developers, including new ways to develop for iCloud and Touch ID.
Apple Pay will let you pay using a single touch on the iPhone, utilizing Touch ID technology and Passbook with NFC at stores that have a contactless reader. The feature will launch in October after the iPhone 6 models are released.