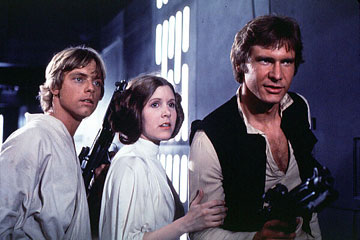 Falling simultaneously with the shocker that The Walt Disney Company has acquired Lucasfilm for a total of $4.05 billion, comes the news that Disney has announced plans to release a seventh Star Wars film in 2015. The agreement, announced today, will also give Disney the entire Star Wars franchise which started with Star Wars Episode IV A New Hope, first released to theaters in 1977.  What's more, the deal includes all of Lucasfilm's companies including Lucasfilm Ltd., LucasArts, Industrial Light & Magic, and Skywalker Sound.
George Lucas, who signed a separate agreement to remain as creative consultant for Star Wars Episode 7 said, "For the past 35 years, one of my greatest pleasures has been to see Star Wars passed from one generation to the next. It's now time for me to pass Star Wars on to a new generation of filmmakers."
Disney says 'Episode 7' will be the first under the "Disney-Lucasfilm" brand, with plans to release a new Star Wars film every two to three years. Kathleen Kennedy, Lucasfilm's current Co-Chairman, will become President of Lucasfilm and act as executive producer of 'Episode 7.' We'll keep you posted on further news.
Read more from Disney here. And, here's a discussion between George Lucas and Kathleen Kennedy about the future of Star Wars movies.
About the author: Jeff Chabot worked in broadcast television as a studio engineer, lighting director and editor. He frequently writes about art, technology and social media. You can also find Jeff on Google.