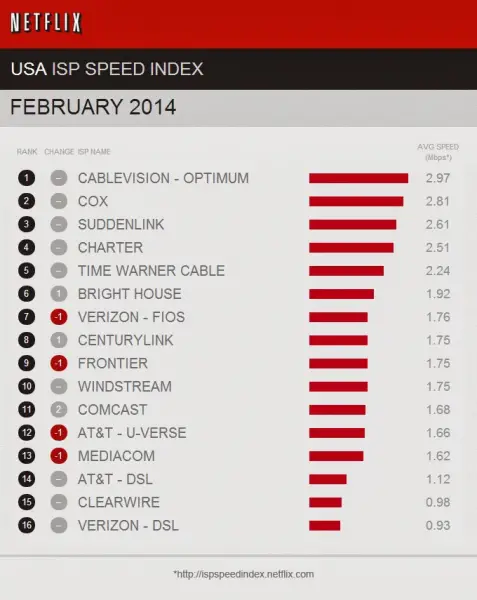 The speeds which Comcast customers get their Netflix streaming is still subpar, but the Netflix ISP Speed Index is in for February, and it shows Comcast improved its speeds in the days following the announced deal between the two companies.
After four straight months of declining performance (and numerous complaints), the stats show Comcast streamed Netflix at an average rate of 1.68 megabits per second. That was an 11% boost from January's average speed, but it still only placed Comcast 11th out of 16 regional U.S. companies.
That deal is designed to give Netflix direct access to Comcast's network, something Netflix had been unwilling to pay for previously. Verizon and AT&T are said to be working on similar pay-for-access agreements with Netflix.
Checking the rest of the list, AT&T U-Verse customers had virtually the same results at 1.66 Mbps, while Cablevision-Optimum led the pack ay 2.97 Mbps, followed by Cox, Suddenlink, Charter, and Time Warner Cable—the next chess piece Comcast is aiming to capture.
From the official Netflix blog:
"In the US there were no big shifts in the major ISP rankings in February. We do expect to see Comcast's performance improve in the rankings next month when we release March data as a result of the recent agreement between Netflix and Comcast."
"The Netflix ISP Speed Index is based on data from the more than 44 million Netflix members worldwide who view over 1 billion hours of TV shows and movies streaming from Netflix each month. The listed speeds reflect the average performance of all Netflix streams on each ISP's network and are an indicator of the performance typically experienced across all users on an ISP network. A faster network generally means a better picture quality, quicker start times and fewer interruptions."