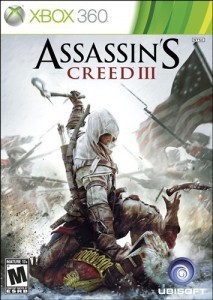 You may have already picked up Assassin's Creed III at a midnight release party last night, unless you were in an area where parties were cancelled due to Hurricane Sandy. If you missed it, Ubisoft's Assassin's Creed III hits shelves today (and download servers) in several different editions. The third major release in the franchise, Assassin's Creed III is, of course, available for PS3, Xbox 360, PC and the new Nintendo WiiU. Choosing the edition may be the hardest decision. For PS3 and Xbox 360 the game is available in a Standard Edition ($59), Limited Edition ($119), and Encyclopedia Edition ($99). For PC Download (Windows Vista/7/XP), Ubisoft will soon offer a Deluxe Edition ($64.99) on November 20, 2012. Assassin's Creed III is available at GameStop, Amazon
, and most big retailers.
Amazon Deal Alert: Today only, Amazon is offering a $10 coupon when you pre-order Hitman: Absolution. Pre-orders also get you the Bartoli Custom Pistol and High Tech Suit. Here's a link to the Amazon coupon — just look below the product details. (NOTE: You must be in the PC Download edition to see it!]
For more in-depth gaming news, visit Gameverse.com.