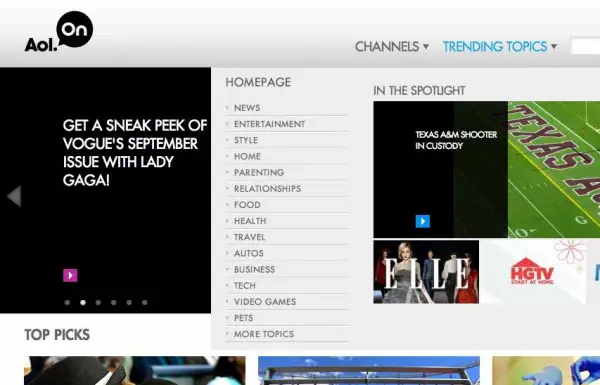 Formerly named AOL HD, AOL has launched version 2.0 of their video service rebranded as AOL On. The update is available for three supporting platforms that include Samsung Smart TVs, Roku and Sony products. AOL has announced TiVo support is now in beta stage and will be available in upcoming weeks for TiVo Premiere DVRs.
Version 2.0 of the app includes an improved user interface, and content from new partners Reuters, AP, BBC, Newsy, Entertainment Tonight, Sugar, E!, Splash News, CNET and Gourmet TV. (Existing content partners include Moviefone, Engadget and HuffPost Entertainment.) The AOL On library boasts over 380,000 short-form videos with a large amount of the content offered in high-definition.
AOL says the new version includes ad-serving capabilities which are in high demand from advertisers. "With this launch, we're delivering on our promise of giving advertisers the tools to reach consumers across every screen in a high-quality, curated environment," said Ran Harnevo, Senior Vice President, Video, The AOL On Network.