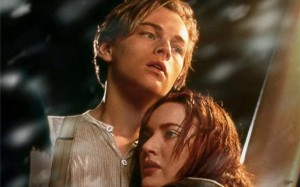 Paramount has sold out advanced screenings of the newly remastered Titanic in 3D on Valentines Day, Feb. 14. Seems a bit morbid, doesn't it? Well not when you consider James Cameron digitally remastered Titanic in 4K 3D using StereoD technology (The Last Airbender, Thor, and Green Hornet). The film is set to release worldwide on April 6th, 2012, which will be the 100th anniversary of the Titanic's maiden voyage on April 10, 1912.
Over 60 cities will be presenting the advanced screening of Titanic in 3D. Looking for tickets? You might want to try Stubhub or Craigslist. There's got to be at least one couple breaking up before then.
List of cities to present Titanic in RealD 3D on Feb. 14, 2012:
Los Angeles, New York, San Francisco, Chicago, Toronto, Philadelphia, Washington, DC, Dallas, Boston, Phoenix, Seattle, Houston, Atlanta, Miami, Detroit, San Diego, Denver, Sacramento, Orlando, Tampa, Minneapolis, Montreal, Vancouver, Cleveland, Salt Lake City, Las Vegas, Baltimore, Portland, Kansas City, West Palm Beach, Raleigh, San Antonio, Hartford, Charlotte, San Antonio, St. Louis, Pittsburgh, Austin, Edmonton, Milwaukee, Norfolk, Grand Rapids, Calgary, Columbus, Fresno, Ottawa, Cincinnati, Nashville, Indianapolis, Jacksonville and Oklahoma City. Internationally, these special one-time only preview screenings will take place in the following countries: Argentina, Australia, Brazil, France, Germany, Italy, Japan, Mexico, New Zealand, South Africa, Spain, Taiwan and the UK.