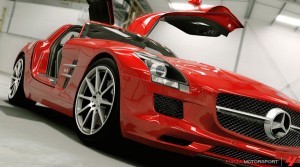 The battle for simulation-racing domination between Sony and Microsoft shifts into 5th gear today as Forza 4 (Xbox 360, $59.99) hits store shelves. The early reviews for the game have been stellar (92 average on Metacritic), with critics like Digital Spy calling it "Authentic yet accessible, educating, entertaining, occasionally silly, always spectacular, but most importantly, faster and more thrilling than riding a V12-powered rollercoaster with no restraints." Whew.
Meanwhile Sony is notifying gearheads that Gran Turismo 5 (Metascore 84) is now a cheaper alternative. After "talking it over with their manager," the MSRP for the PS3 racer has been dropped to $39.99. To further sweeten the pot, the new Spec 2.0 update is available as a free download, bringing with it shorter load times, interior views for all cars, adjustable weather conditions, and the option to save during an extended race.
Developer Polyphony Digital is also promising more downloadable content for GT5 in coming weeks, with new vehicles, tracks and more.