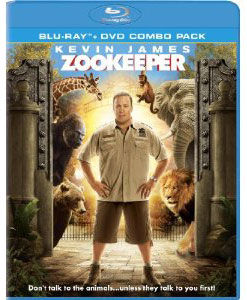 What's on Blu-ray this week? Zookeeper is a hilarious comedy about an animal caretaker who can talk to animals. The movie stars Kevin James, Rosario Dawson, and Adam Sandler and is definitely worth checking out. Green Lantern, the "other green superhero," gets released in several hi-def disc editions this week. On Blu-ray Disc you can choose between the 3-Disc 3D Combo or 3-Disc Combo, both of which come with a DVD and digital copy. Or, simply pick up the single-disc Blu-ray edition. You may have seen commercials for Horrible Bosses during NFL games this past weekend. The film starring Jason Bateman and Jennifer Aniston is available in a Blu-ray/DVD combo pack with digital copy, or the single-disc edition. Terrence Malick's visionary work Tree of Life hits shelves today as a 3-disc Blu-ray/DVD Combo with digital copy. And, Criterion Collection has released The Four Feathers, a 1939 film about the British exploitations in Africa. Criterion has digitally restored the Technicolor film and retained it's uncompressed monaural soundtrack. Here are some other Blu-ray picks this week:
Green Lantern
Green Lantern 3D
Chuck: The Complete Fourth Season
Bones: The Complete Sixth Season
The Tree of Life
Horrible Bosses
Zookeeper
The Four Feathers (The Criterion Collection) (1939)
Scrooge (1970) Albert Finney, Alec Guinness
Visit Amazon for a complete listing of all this week's new Blu-ray Disc releases.