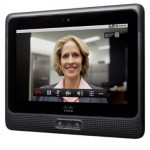 AT&T has announced fall 2011 release of the Cisco Cius, a tablet built for mobile business use. AT&T says the tablet functions to provide diverse HD video communications, instant messaging and virtual desktop control.
For hardware, the Cisco Cius features a 7-inch, high-resolution (1024 x 600) touch display, rear and front cameras, 32GB flash memory, and both micro and standard USB ports.
For software, the Cisco Cius is built on the Android OS with Flash support, multitasking capability, AT&T/Cisco and Android app compatibility and GPS.
Network connectivity is achieved via 802.11a/b/g/n Wi-Fi or 3G/4G mobile broadband networks such as AT&T's HSPA+ network. For voice and video calls, you must be connected to a wired network.
AT&T didn't include an MSRP with their press release.