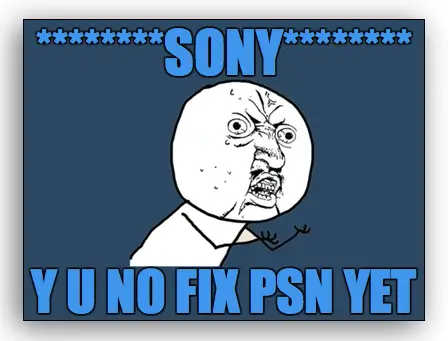 As of today, there's still no real word from Sony that the PlayStation Network will be back up any time this week or next.  They've already missed one supposed re-launch date and Patrick Seybold was quoted earlier this week by the Wall Street Journal Online with no word on a real date for re-launch of the service for gamers and other PSN customers.   Yesterday, Seybold posted an update at the PlayStation Blog:
"I know you all want to know exactly when the services will be restored. At this time, I can't give you an exact date, as it will likely be at least a few more days. We're terribly sorry for the inconvenience and appreciate your patience as we work through this process."
A few days, a few weeks… whatever.  At this point, Sony's reputation can't take much more…  and there's plenty of ire-filled tweets and blog posts from PlayStation owners about the continuing situation.
There's also plenty of banter on how the ongoing security issue will affect both Sony and their customers, in particular just how many of those customers might consider putting the PS3 in the closet and letting Xbox 360 into their lives… along with the Xbox Live network and services.  Microsoft seems poised to take advantage of the pox on Sony's house, and you can certainly bet the recent sufferings of Nintendo have been somewhat alleviated during the loss PlayStation customers are experiencing.  But most business analysts think both Sony and the PS3/PSN will weather this storm and eventually come out ahead with a stronger and more positive experience for customers on their network once re-launched.