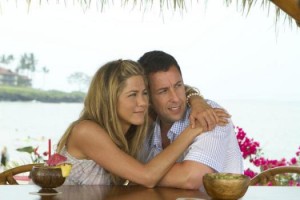 Would you pay $30 for Adam Sandler in "Just Go With It" or Matt Damon in "The Adjustment Bureau?" That's what Variety reports DirecTV will ask subscribers to pay this coming Easter holiday for movies that are 30 days away from Blu-ray Disc, DVD, and digital viewing.
Although DirecTV refused to comment on the move, Variety did offer details on the premium VOD service which will be called "Home Premiere" and grab titles 60 days after theater release. Needless to say the theaters are not happy about DirecTV stepping on their territory which could certainly have an effect on group ticket sales — especially during the holidays when families are together.
A couple other films Variety mentioned as potentially heading off the premium VOD offerings are Fox Searchlight's "Cedar Rapids" and Warner Bros.' "Hall Pass." The "Home Premiere" service from DirecTV is expected to launch this week.
Disney and Dish Network have also spoke of offering movies VOD close to their theatrical releases, not amidst opposition from theater owners. Dish recently offered "The Resident" the same day as theaters, but at a lower cost of $5.99.