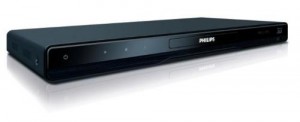 At CES 2011, Philips announced the first wireless HDMI 3D Blu-ray player, scheduled to ship in April, 2011. With just one cord for power, the Philips BDP7580 supports 3D playback, MediaConnect (allowing you to view your PC desktop mirrored on your TV and access websites such as YouTube, Facebook, and Netflix) and NetTV giving you access to streaming HD channels and VUDU on demand.
The BDP7580 supports full 1080p resolution at 24fps and AVCHD playback.
"Consumers want to be able to stream content, including 3D movies, to their TV and now with this player they can cut the cord and stream wirelessly," said Todd Richardson, senior vice president of sales and marketing for P&F.
The Philips BDP7580 will carry an MSRP of $499 in the US.
Philips also displayed a dual-screen portable Blu-ray / DVD player (PB9013) with rechargeable battery which will carry an MSRP of $379. That player will also ship in April, 2011.
P&F is a subsidiary of the Funai Electric Co., LTD, Inc. and is the exclusive licensee for Philips consumer televisions and home theater and Philips Hospitality in North America.