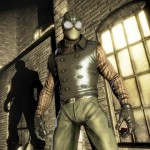 Spider-Man: Shattered Dimensions from Activision is now shipping for Xbox 360, Playstation 3 and Wii. In the game you'll be able to play as one of four versions of Spider-Man and play in four unique worlds including Amazing, Noir, 2099 and Ultimate.
In 'Shattered Dimensions' Spider-Man gamers will play in a range of environments you can transport to such as lush jungles, sand quarries, and a futuristic New York City. Spider-Man will face villains such as Mysterio, Carnage, Deadpool, Vulture, Kraven, and a never-before-seen Noir version of Hammerhead.
Voiceovers are provided by previous Spider-Man actors including Neil Patrick Harris (Amazing Spider-Man), Josh Keaton (Ultimate Spider-Man), Dan Gilvezan (Spider-Man 2099) and Christopher Daniel Barnes (Spider-Man Noir).
None other than Stan Lee provides the narration for the game, and Emmy Award-winning composer Jim Dooley created the original soundtrack.
A Nintendo DS version is also available, and PC version will be available soon.
Order Spider-Man: Shattered Dimensions
for Playstation 3, Xbox 360, and Wii at Amazon.com.