Hope everyone had a Happy 4th of July… Glad we live in country where we have plenty of life, liberty and the pursuit of cool technology, but due to the holiday this week's kind of a dumping ground for Blu-ray releases… nothing much to shout out about, but I did manage to dig up two worthy discs to highlight.  The rest of the bunch are a mixed bag of dual-pic releases for Blu-ray, similar to how the studios dumped a lot of releases on DVD only a few years back.  Warner Bros. has released some great BD's lately, but these double-feature releases seem destined for the cut-out bin at your local big-box discount store.  Let's take a gander at two decent picks for the week:
WHITE SPACE
Hot, dead Swedish novelist, Stieg Larsson, created a doozy of a thriller triptych that created a cult of readers who've been kept in thrall of the abused but brilliant heroine of the books, Lisbeth Salander.  The first stab at an adaptation is the Swedish version of The Girl with the Dragon Tattoo (Män som hatar kvinnor; Nordisk Film/Music Box Films, 2009), and though it probably cannot live up to the book's depth and detail, it is still a very good thriller even while it trods some well-worn paths in the mystery genre.  Still, be warned, the film is tough, and often brutal look at the violence that men heap upon women (the Swedish title of the book is Men Who Hate Women) and though it will be updated soon for American screens by director David Fincher, this take on Larsson's twisted tale doesn't shy away from brutal scenes of rape and misogyny, though nowadays, thanks to CSI styled crime dramas on TV, American audience might be too jaded to notice.  Noomi Rapace takes the lead role and cuts a lean, intense figure (with that dragon tattoo on her back), who seethes with anger beneath the piercings and goth/hacker persona, but also displays the sensitive nerves and withdrawn body language of those who've found themselves victims of abuse.  There are scenes in this movie where you will literally cheer her on for some of the acts she commits, and it's tough to watch as she is repeatedly stripped of everything in her life by men who think they can dominate her and mistreat her.  The mystery she attempts to solve isn't even her own… it belongs to a man she both admires and fears, though not for reasons you'd expect on either count.  The character of Mikhael Blomkvist, played by Michael Nyqvist also finds himself dominated and mistreated, though in ways much different than Lisbeth's painful endurance tests, still he's at the center of something he cannot understand, manipulated by those who seek his help and nearly led by the nose to his own demise… Solving this mystery only reveals much darker secrets behind the family of the rich industrialist who hires Blomkvist, but it also rips into Swedish society as a whole (though not as much as the book to the dismay of some readers) with elements of Nazi pasts among a power elite and the chilling aloofness of authorities that thought they'd gotten off the hook on a long unsolved disappearance.  This one's definitely worth a look regardless of the upcoming American remake (that will be sweded!), though I'm wiling to give it some latitude because of Fincher's excellent skills and aptitude for such dark and devious stories.  Still, check it out… it's impressively directed by Niels Arden Oplev, and has a depraved climatic sequence that will linger long after the film ends.  Nevertheless, the sequels have already been released in Sweden and are due to hit American theaters soon.  If you can't make it to the local art-house theater (I caught the movie at the Sunset 5 in Hollywood), the Blu-ray will definitely suffice though by the word on the street it's not even close to a showcase disc.  Rather, it's a BD-25 in 1080p/ 2.35:1 widescreen with compression that isn't annoying, very little apparent artifacting and low grain.  The colors are being noted for their lack of saturation, but in theaters this was pretty apparent, too… it's a moody Swedish art-house thriller after all.  Generally it's a nice, sharp picture with sound that offers an effective mix of dialogue and ambient sound in Dolby Digital 5.1 with a choice of the original Swedish track (subtitled in English) or an English dubbed mix.  Though neither audio selection offers a lossless mix, most reviewers say the sound is more than effective for this type of film.  Bonus features include an interview with lead actress, Noomi Rapace, as well as a family tree feature that allows viewers to delve deeper into the genealogy of the wealthy Vanger family at the center of the mystery and some trailers but, as reviewers are pointing out, this would have been a much better set if it featured something about the creator of this fine fiction, Stieg Larsson.
WHITE SPACE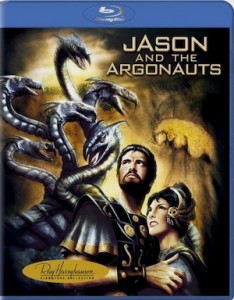 Jason and the Argonauts (Columbia Pictures/Sony, 1963) represents another milestone in Ray Harryhausen's impressive career as the go-to guy for the type of special effects we take for granted nowadays in this age of CGIcandy.  He did it the hard way…  creating, from scratch, the metal ball-bearing and wire armatures for his creatures, animating them and integrating it with live action footage to produce highly-involving sequences of Greek men fighting against skeleton armies, biting hydras and harpies as well as Talos, the bronze giant.  While the movie itself has worn age well, the acting does not (Harryhausen's monsters are more lifelike), but nevertheless the effects work is simply stupendous and, to me, still manages to make the film somewhat of an extravaganza.  The Blu-ray is a must own for those who love Harryhausen's work as well as those who love a good adventure yarn mixed with some wonky Greek mythology, but as a bonus you also get an iconic Bernard Herrmann score that drives the action forward and makes for some exciting sequences.  The Blu-ray is getting exceptionally high-marks from reviewers who are quite pleased with what Sony's done for fans of the film and newcomers alike… offering a gorgeous transfer in 1080p/1.66:1 widescreen (from an original aspect ratio of 1.85:1) that allows the special effects to be fully seen without the kind of cropping that marred previous home video and broadcast versions of the film.  Though there is some grain apparent in certain sequences, the dark scenes and brighter images acquit themselves nicely with good, but subdued, color saturation that enhances the overall clarity of the video.  The audio is also a superb representation of dialogue, foley and ambient sounds as well as Herrmann's dynamic score and in home theater friendly DTS-HD MA 5.1, you get a real sense of the battles and swordplay.  Reviewers are loving every minute of the extras Sony has served up… starting with the Leonard Nimoy narrated The Harryhausen Chronicles which features an hour's worth of documentary footage on the special effects maven, and The Harryhausen Legacy which offers a short interview with Ray and John Landis, both a fan and fantasy filmmaker himself.  While those two features are older imports from other home-video releases, they are fine additions to the BD in the view of many, but the real treat for fans are the two commentaries, which are new for the Blu-ray.  First off there's a feature-length commentary with film historian, Tim Dalton, who sits with Ray as they discuss the particulars of his work and development of the film's effects work.  There is also another feature-length commentary with LOTR director, Peter Jackson and special effects/stop-motion whiz, William Randall Cook that amounts to a complete geek fest with loads of deep information on the movie, Harryhausen and their own efforts to restore much of Ray's archives and precious dailies (the first prints of his work that allowed him to see how he did before committing it to post-production).  This is truly a must own BD… even for those who think the sun rises and sets on CGIcandy and greenscreen.  If you don't have this on your HD home-theater library shelf, you're not only missing out on an excellent HD release, but also a fantastic time with a fun-filled movie.
WHITE SPACE
The rest of the Blu-ray releases for July 06, 2010 are as follows…  though the main standout here is Sony's A Single Man. Get pricing and specs on all all new Blu-ray releases
this week.
Bitten (Vivendi)
Brooklyn's Finest (Anchor Bay)
Dr. Giggles/Otis (Warner Brothers)
Eyeborgs (Image)
Funny Farm/Spies Like Us (Warner Brothers)
The Getaway (1972)/The Getaway (1994) (Warner Brothers)
Highlander: The Series – Season Two (Davis-Panzer)
How the Earth Changed History (BBC)
Jimmy Hollywood (Lionsgate)
Ladybugs (Lionsgate)
Larry the Cable Guy: Git-R-Done (Image)
The Last Boy Scout/Last Man Standing (Warner Brothers)
Last Chance to See (BFS)
Love and Other Disasters (Image)
Practical Magic/The Witches of Eastwick (Warner Brothers)
A Single Man (Sony)
Steve Byrne: The Byrne Identity (Image)
WHITE SPACE