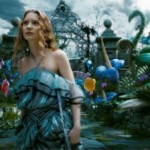 Dish Network is still offering Alice in Wonderland, Green Zone, Hot Tub Time Machine and She's Out of My League for .99 cents from July 1 through July 7 on their DISH Cinema pay-per-view service. The movies are available in both standard and high-definition at 1080p resolution and can be purchased on channel 501 or through the DISH On Demand menu on your DVR.
Other movies available On Demand and in HD include Clash of the Titans, Shutter Island, Flicka 2, Percy Jackson & The Olympians: The Lightning Thief, The Bounty Hunter, The Losers and Repo Men.
Upcoming movies to Dish Cinema include The Last Song, Tyler Perry's Why Did I Get Married Too, Kick-Ass, Death at a Funeral, and The Ghost Writer.
Dish Network Video On Demand is available for the 512 (SD/DVR), 522, 622, 625, 722 and 922 DVR receiver models. Movies purchased on Dish pay-per-view are available to watch throughout a 24-hour period.
More info can be found at http://www.dishnetwork.com/dishcinema.