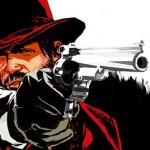 Rockstar officially announced a June 22nd release date for "Outlaws to the End," a free cooperative multiplayer mission pack for Red Dead Redemption.The content will arrive simultaneously on both Xbox Live and the PlayStation Network.
The pack, one of three due out for the game (the others will presumably be paid downloads), contains six new multiplayer missions for up to four players, as well as new achievements, trophies, and multiplayer bonuses.
Redemption has been a huge hit upon its release in May, which is a good thing for Rockstar — rumors have suggested that the game cost $100 million to develop.
Rockstar provided brief descriptions of three of the scenarios:
"Walton's Gold"
Walton's Gang have taken control of a mining camp rich with gold. Fight through the camp and load your mine cart with as much gold as you can carry and get out as fast as you can – Walton's boys have rigged the place to blow.
"The River"
Ride a raft down river, taking out rebel encampments along the way until you reach the rebel stronghold of Nosalida and a final epic battle for the town's massive weapons caches. Watch out for Gatling gun-equipped enemy rafts.
"Ammunition"
The Mexican Army has the town of Tesoro Azul under siege. Storm the gates under heavy cannon, Gatling gun and sniper fire to destroy the Mexican artillery placements.