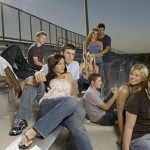 Season 4 of Friday Night Lights will premiere tonight, May 7 on NBC. Although the series already had its run on DirecTV, this will be the first time the episodes will be seen on NBC who partners with DirecTV in producing the show. Like Season 3, Season 4 of FNL consists of 13 episodes.
The season of Friday Night Lights on NBC will start with the episode "East of Dillon" at 8 p.m. Eastern, 7 p.m. Central. The show originally aired October 28, 2009, and follows Coach Taylor (Kyle Chandler), who has taken a job across the tracks as head coach of the East Dillon Tigers. There he faces a different set of challenges in putting together a new team and coaching staff.
The new season brings back favorites like indie-rocker Devin (Stephanie Hunt) and Panther star Tim Riggins (Taylor Kitsch), as well as introducing many new characters such as Vince Howard (Michael B. Jordan) and Jurnee Smollett (Jess Merriweather).
Friday Night Lights Season 4 Episode 1 "East Of Dillon" was produced/directed by Peter Berg and written by Jason Katims.
The show has been scheduled to run for two more years, as DirecTV and NBC renewed a partnership deal through the 2010/2011 season.