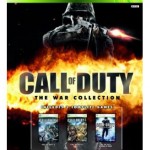 There's no doubt that Call of Duty is one of the most popular series out there. Next fall's Call of Duty: Black Ops already has an exciting teaser trailer, while Modern Warfare 2's online community is still going strong with downloadable content.
It wasn't until Call of Duty 4: Modern Warfare, though, that the franchise hit mass cultural appeal. Now, gamers who haven't experienced past games in the series can catch up with Call of Duty: The War Collection for the Xbox 360, a budget minded collection of three titles from the best-selling franchise at a $60 price point.
Included in the bundle are 2005's Call of Duty 2, 2006's Call of Duty 3, and 2008's Call of Duty: World At War. All three games are set during World War 2 and allow players to control members of the American, British, and Russian forces. With three games, there should be plenty of action to tide fans over until next fall.
Call of Duty: The War Collection for Xbox 360 will hit stores on June 1. You can Pre-order
a copy through Amazon.com.