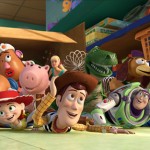 Toy Story 3, the third installment in Pixar's landmark computer-generated series, is one of this summer's most anticipated movies. As is customary nowadays, a video game based on the film is coming out simultaneously with its release. But, unlike the majority of movie based games, Toy Story 3 is shaping up to be well-polished and original.
The game's main feature is Story Mode, which has players controlling Buzz, Woody, and Jessie through action adventure missions based on the film. But the mode getting a lot of buzz is the "Toy Box." Players are set loose in an open world environment filled with toys featured in the movie where they can create their own adventure missions, race cars in stunt courses, and more. And only in the PS3 version can players control Zurg, the villain of the series.
In addition, news has come via the official Playstation Blog that the game will include support for the Playstation Move. The Move is Sony's hotly anticpated motion controller, a direct competitor to the Nintendo Wii and Microsoft's Project Natal. While the game comes out this summer, the Move won't be out until this fall. Upon its release, gamers can download mini games that use the device.
Toy Story 3, which hits stores on June 15th, is now available for Pre-order
.
.