Last week on Blu-ray saw the release of Season Two and Three in the Highlander TV series, but not much more than that…  This week there are plenty more offerings but not much worth purchasing (or in some cases renting, unless you really need your Michael Bolton fix).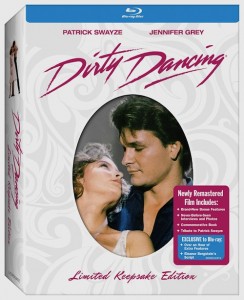 Dirty Dancing (Lionsgate, 1987) has already been out on Blu-ray for a few years, but this Tuesday it gets the special limited edition treatment (actually a Limited Keepsake Edition) with a supposedly remastered transfer.  Given that the initial 20th Anniversary Blu-ray release of this classic chick-flick left fans of HD and the movie both very frustrated, this new remastered set is welcome relief.  The best that can be said about the 20th Anniversary set is that it looked better than the DVD, but not spectacular.  Perhaps this was due to the source the first transfer was drawn from but it was also clearly due to the transfer itself— full of compression issues with noticeable marring of the image throughout the film.  With that release the film definitely showed its age… not in terms of the performances, which are fantastic across the board, or in terms of its story (a twice-told ugly duckling fable)… no, rather the Blu-ray simply magnified the age of the filmmaking technology of the time.  This new transfer should result in much better image quality, and many are saying they see a huge improvement in video quality.  For this reason, and for the number of special features this keepsake carries, it's probably worth buying.  The movie is still a fun, well-performed romance set in the early 60's, most notable for Kenny Ortega's choreography as executed by Patrick Swayze and Jennifer Grey (both trained as dancers) and of course, the "dirty" dancing moves that became kinda sorta popular in the late 80's.  Audio for this release is in 7.1 DTS-HD Master Audio, and that should make the music sound terrific.  Of course, the film is presented in 1.78:1 widescreen /1080p (it is also being re-released as a remastered DVD) and as noted HD fans are much happier this time out.  However, from a fan perspective, the real reason to buy this set are the incredible amount bonus items including all the features from previous home video releases and over an hours worth of extra features (including a tribute to the recently departed Patrick Swayze).    Here's the breakdown:
The DVD and Blu-ray edition are both encased in collectible packaging with a colorful, 52-page hardcover commemorative keepsake book.  There's also a coupon for fifty dollars off a stay at the "real" Kellerman's Resort (Mountain Lake Hotel in Virginia, limited time).
New Special Features:
"Kellerman's: Reliving the Locations of the Film" featurette
"Patrick Swayze Tribute" featurette
"Dirty Dancing: The Phenomenon" featurette
In Memoriam
Fan Reel
"The Rhythm of the Dancing" featurette
"Dancing to the Music" featurette
Never-Before-Seen Stills Gallery
Eleanor's Personal Shooting Script
HD Theatrical trailer
Digital Copy
Prior Special Features:
Audio commentary with Eleanor
Vintage featurette
Jennifer Grey Screen Test
Audio commentary with Kenny Ortega, Miranda Garrison, Jeff Jur, Hilary Rosenfeld and David Chapman
Jennifer Grey Interview
Miranda Garrison (assistant choreographer) Interview
Kenny Ortega (choreographer) Interview
Eleanor Bergstein (writer) Interview
Emile Ardolino (director) Tribute
"Hungry Eyes" Video
"She's Like the Wind" Video
"I've Had the Time of My Life" Video
Theatrical Trailer
Trivia Track
Original Screen Tests (Patrick & Jennifer)
"Dirty Dancing with Patrick" featurette
Tribute to Jerry Orbach
Deleted, Alternate Scenes, Extended Scenes
Outtakes
Multi-Angle Dance Sequence
"The Classic Story On Stage" featurette
Interactive Photo Gallery
Dirty Dancing: Live in Concert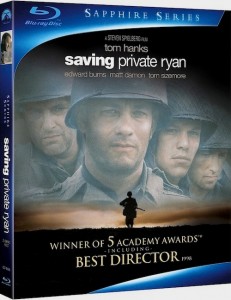 Steven Spielberg's amazing story, Saving Private Ryan (Paramount, 1998), won a slew of Academy Awards and gave the Greatest Generation the spotlight for their role in that most pivotal moment of 20th century history, the D-Day landing and Allied invasion of France through Normandy.  Bookended by poignant scenes of reminiscent sadness and pride, Spielberg goes full bore into war-movie mode and it's a classic on par with the best WWII films of prior eras.  The ensemble performances are aces, with Tom Hanks as everyman Captain John Miller, a can-do guy with hazy origins who leads his troops through bloody battlefields in search of a missing private whose three brothers were killed in combat, and who the military brass decide ought to go home to his grieving mother.  This search for Private Ryan frustrates the hell out of Miller's Rangers and puts them in plenty of situations where ethics run up against the reality of wartime violence where life and death decisions are made amidst hail-Mary bravery and the paralysis of fear and uncertainty.  Spielberg and his cinematographer Janusz Kamiński create some incredibly rollicking sequences that often create a breathless sense of the anxiety felt by these citizen-soldiers, but Spielberg also allows for moments where his patented shmaltz takes over… and while he's mostly able to balance the quieter moments where Miller muses over his men and their wartime predicaments, there are times where the more cloying aspects of his signature direction might make you roll your eyes a bit.  Some might call that restraint, especially when Spielberg's eye stays on a quizzical solider only to see him ripped to blood-soaked shreds in all but a second.  In his latter years, Spielberg has not flinched from showing the gory truth and consequences about violence in his adult dramas, and Saving Private Ryan is full of such scenes of bloodshed.  In many ways, this is the perfect "guys on a mission" movie that folks like Tarantino often talk about as inspirations for their own work.  Unlike the flash and dazzle of Tarantino's recent WWII epic, Spielberg tells his tale straight ahead, with an earnestness and sincerity that speaks volumes about the type of folks that went to war… never certain of victory, but always ready to serve and put their lives in danger for the greater good.  The 1080p 1.85:1 widescreen presentation (part of Paramount "Sapphire Series") is, by all accounts, stunning… revealing solid black levels, crisp detail even in dark sequences and a quality that the DVD just could not capture, but that retains all the hallmarks of Kamiński's slightly diffused images and bleached-out color palette that bring to mind the type of actual color footage shot during the war.  The audio in 5.1 DTS-HD Master Audio gets high marks from a number of reviewers who note the great use of LFE and surround channels especially during the 24-minute Omaha Beach landing sequence… amidst the chaos of this stupendous battle scene folks are saying they can feel the bullets whizzing around.  The Blu-ray disc features all the bonus items from the 60th D-Day Anniversary Edition while adding "Into the Breach" a History Channel EPK-styled affair and a new documentary featuring Tom Hanks (over an hours worth of new material for home video).  Here's the breakdown (all features in SD except trailers):
An Introduction
Looking Into the Past
Miller and His Platoon
Boot Camp
Making Saving Private Ryan
Recreating Omaha Beach
Music and Sound
Parting Thoughts
Into the Breach: Saving Private Ryan
Shooting War
Theatrical Trailer
Re-Release Trailer
Saving Private Ryan is currently available on Amazon for $19.99 (Reg. $39.99).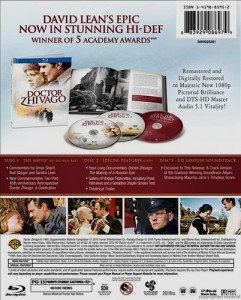 David Lean's classic Doctor Zhivago (Warner Bros/MGM, 1965) is getting a revolutionary Blu-ray treatment with a huge upgraded transfer from original film elements that have been lovingly repaired.  Across the board, folks are saying it looks marvelous and presents the epic in a way it has never been seen on home video.  The 2.40:1 widescreen, 1080p image and DTS-HD 5.1 Master Audio present the highest quality presentation of Lean's take on Boris Pasternak's tale of a romance and disillusionment amidst the Bolshevik Revolution.  The plot is thick and sprawling (and the movie quite long including the overture and intermission), but Lean always manages to find focus on the human drama at the center of the historical events.  The powerhouse of acting talent in this film is one of the primary reasons to see it again on Blu-ray: Here are Omar Sharif, Julie Christie, Alec Guinness, Tom Courtenay, Rod Steiger and Geraldine Chaplin all in one place, each giving a flawless performance as Maurice Jarre's icy music stirs in the background.  Definitely worth buying though much of the special features are ported over from previous releases.  The "Blu-ray Book" is accompanied by 3 discs and wrapped in a nice book-like package that offers production stills, character biographies and essays on the film.  Disc One features the film itself and commentary by Omar Sharif, Rod Steiger, and Sandra Lean (Mr. Lean's widow) and a two-part commemorative 45-Anniversary celebration of the film in two parts (over a half-hour combined).  Disc two features the hour-long documentary "Doctor Zhivago: The Making of a Russian Epic" and a terrific assortment of items pulled from the archives including press interviews with cast members, screen tests, and older press features on David Lean's production.  Lastly, there's a CD sampler (disc 3) that contains eight tracks from the original film's soundtrack including, of course, the classic "Lara's Theme."   This is an excellent release and should be considered for your HD home video library.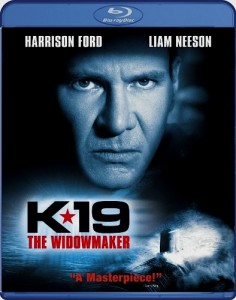 For those interested in seeing the arc that Kathryn Bigelow's career has taken, you can check out K-19: The Widowmaker (Paramount, 2002) that bombed at the box office and doesn't hold up as piece fact-based filmmaking, but is still exciting enough in its own right.  The Blu-ray commentary by Bigelow and cinematographer, Jorden Cronenweth as well as a EPK/making-of featurette and three bonus peeks into the film's production.  Best reason to check it out is that Bigelow now owns an Oscar and it's worth seeing what led to her directorial choice for The Hurt Locker, other than that the BD is an HD release that is fine, but nothing special.
Other notable releases this week include:
Celine: Through the Eyes of the World (Sony Music)
Chickenfoot: Get Your Buzz On – Live (EMI America)
The Dukes (E1)
Elektra: Director's Cut (20th Century Fox)
Escape from L.A. (Paramount)
Hamlet (2009) (BBC)
Leap Year (Universal)
Michael Bolton: Live at the Royal Albert Hall (Eagle Rock)
Nine (Sony)
The Notebook (Warner Brothers)
One Night Only: Barbra Streisand and Quartet at The Village Vanguard – September 26, 2009 (Columbia)
Preacher's Kid (Warner Brothers)
Tetro (Lionsgate)
Tooth Fairy (20th Century Fox)
Visions of Nature: Timescapes (Image)
Get pricing on all new Blu-ray Disc releases
for May 4, 2010.