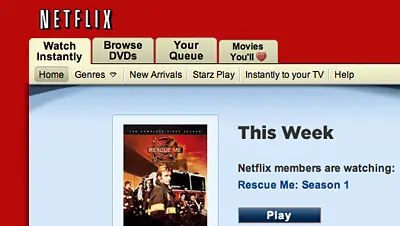 Terrific news for some mobile users on the Netflix front: iPhone and Nintendo DS users may have to wait a while, but Netflix chief Reed Hastings and staff have already sent out surveys to gauge what consumers desire when it comes to mobile use of the streaming service. According to HackingNetflix.com, the company is gathering user interest to determine the possibility of an iPhone app (and Nintendo DS interface) with 30 second load times, the ability to fast-forward/rewind and pause the stream, and basically get all the functions and features of Netflix Instant Watch without advertisements similar to the Xbox, PS3 and Wii versions of the streaming service.
Netflix is only hinting at this for now, but their survey speaks volumes about the possible iterations of such a service for mobile device in the future. The only caveat is that the service would not function over 3G networks and only be available using wi-fi (really, all mobile streaming services should have as much clout with AT&T and other mobile network providers that MLB.com has… for they are able to stream live games over 3G without much of a hiccup during playback). CEO Hastings is staying mum on all other details including possible roll-out dates for such an app. So file this under "big wish" for late 2010 or early/mid-2011… Since Netflix has done this type of survey before (attempting to gauge interest in a PS3 or Wii version would seem a no-brainer, but I guess this helps Netflix allocate costs for such a project) and spelled out exactly how such streaming would function via third-party devices, it seems like this will become a reality… so iPhone and Nintendo hand-held users can certainly rejoice, and then wait patiently. For PSP users, the wait might be longer, but keep an eye out for possible surveys for that platform as well.
In other Netflix news… A very unhappy customer is suing Netflix for "restraint of trade", due to the recent accord Netflix's Reed Hastings struck with Warner Bros. It seems she and her counsel think that the agreement for a 28-day wait on new releases from Warners represents nothing short of a conspiracy between the two companies and is a breach of the agreement Netflix has with users to deliver new films and causing users to lose value on their monthly membership. We'll check in with this to see how far it might go (yet another class-action lawsuit against Netflix?) but for now it appears that this is in the early stages and Netflix has yet to truly respond to the matter. You can read the details here.
And lastly… The Netflix Blog has all sorts of hate for Hastings and Company today. Mostly folks are pissed that the subscription mail rental and streaming site is revamping its look, particularly when it comes to the film detail pages where Netflix provides the bulk of information about a film and allows users to share comments and share favorite films with friends. As Netflix is always striving to maintain a clean and easily navigable site, it makes sense to clean up those cluttered pages with only the most important items and information that the majority of general users want. This didn't fly with some Netflix users who recently bemoaned the loss of Friends lists and other semi-useful features that had more in common with social networking that anything else. Users are upset that their negative comments about the changes on the Netflix blog site have been seemingly deleted by Netflix, so it's understandable why they would be disgruntled. But hey folks, change happens, and those features weren't used by everyone. If the dictatorship at Facebook is any indication, expect Netflix to do what they want with their site regardless of how miffed you might be.